PROVERBS 23:25
Let your father and your mother be glad and let her who bore you rejoice.
In her book LlVING SOMEWHERE BETWEEN ESTROGEN AND DEATH, Barbara Johnson tells how she chose a quiet cemetery as the place to teach her young son Tim to drive. After their lessons they they would go out for burgers and fries and celebrate. Years later, while standing next to Tim's grave in the same cemetery, she noticed a passing car. Inside was a teenage boy slowly steering the car along the quiet roads with what appeared to be his mother beside him. Barbara wrote, "I wanted to call out to that mother, 'Enjoy your ride with him now, while you can. Make a memory of your experience–and go get a hamburger to celebrate!'"
All too often, we forget to celebrate the people we love and hold most dear to us– those we call our family. It's easy to take them for granted, and neglect to tell them how much they mean to us.
Whether it's a family night at home playing board games, a special outing, or time spent just talking and sharing, family times can be a celebration as you compliment, encourage, and appreciate one another. These become memories you can hold on to forever.
Even when your children are grown and gone from your home, technology makes it easy to stay in touch. So let's work at celebrating our families!
PRAYER: Lord, you have blessed me amazingly with a loving family! Let me never neglect, nor offend them by failing to remember the rich gift they are to me.
By Ann Shorb
© Ann Shorb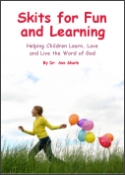 Skits for Fun and Learning
Skits for Fun and Learning is a collection of 15 puppet scripts and 5 articles on the subject of success with puppet ministries. The articles and scripts have been written by Dr. Ann Shorb and the book is available for purchase as a paperback, or as a PDF download.