Philippians 3:13-14
Forgetting those things which are behind, and reaching forth unto those things which are before, I press toward the mark for the prize of the high calling of God in Christ Jesus.
We've just concluded a wonderful summer Bible study based on Philip Patterson's book, Living Stones. It's an inspiring book that looks at the lessons of forgiveness, courage, victory and more that can be learned from the stories told in the Bible that involve stones. Patterson points out an interesting fact in the story about the woman caught in adultery found in John 8:1-11. It's something that I'd never thought about before.
The religious leaders dragged her before Jesus, desiring to stone her in keeping with the Old Testament law; but Jesus, in His compassion, refused to condemn her for her sins. Instead He sent away her accusers with a convicting question, and He offered the woman forgiveness. In extending His grace, Christ didn't give her license to go and repeat the actions again. No, He was very direct about His expectations for her when He said, "Go and sin no more." He confronted her sin, He cleansed her from sin, and He commanded her, "Now leave your life of sin!"
I believe that woman looked at the stones still lying on the ground and thought about what would have happened if Jesus hadn't been there that day. Thankfully, because of His forgiveness, she walked away unharmed, rejoicing, relieved, and no doubt determined to do just as He said and leave her life of sin.
Now here's the part I'd never thought of. Patterson says, "Once the woman in the passage above felt the forgiveness of Jesus, she didn't pick up the rocks and carry them around with her. Perhaps she skipped. Perhaps she ran. Perhaps she leaped for joy into the arms of Jesus. Whatever she did, she was now unencumbered by the mistakes of just a few minutes earlier."
Too many times, when we come face-to-face with our sin, we repent and ask for forgiveness, but then beat ourselves up again and again for what we've done. It's easy to get hung up in the valley of regret and sorrow over the past; but then you are stuck, going nowhere, and unable to move toward the light of healing and hope. No, my friend, don't stay in the valley of regret. Or as one counselor says, "Don't go to Regretsville. There's nothing there for you." Acknowledge your sin, accept God's forgiveness, walk away rejoicing–and leave the stones behind!
Heavenly Father, there are times when I beat myself up over things that are over and done. I know I can't change the past, so help me to break free from regret and sorrow and live in the victory of Your forgiveness.
By Ann Shorb
Copyright 2007
Christ offers forgiveness to every single person who seeks Him. For more information on finding His forgiveness from your sin, read 4 Things God Wants You to Know.
Perhaps someone has offended you and you know you need to forgive that person but you are having real trouble doing that. You can find some helpful information in our devotional entitled "Forgiveness," by Elaine Olson.
---
Living Stones: Bedrock Truths for Quicksand Times
By Philip Patterson / World Publishing Written in the form of modern day parables, Living Stones is about the search for bedrock truths in a quicksand world. Author Philip Patterson, a professor, parent, and a fellow pilgrim looks to the rocks for universal truths. From the small stones David used to slay Goliath to the huge boulder in front of Christ's tomb, the rocks teach us lessons we need for the journey.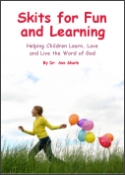 Skits for Fun and Learning
Skits for Fun and Learning is a collection of 15 puppet scripts and 5 articles on the subject of success with puppet ministries. The articles and scripts have been written by Dr. Ann Shorb and the book is available for purchase as a paperback, or as a PDF download.