ROMANS 8:15 (KJV)
For you did not receive the spirit of bondage again to fear, but you received the Spirit of adoption by whom we cry out, "Abba, Father."
GALATIANS 4:6-7 (NKJV)
And because you are sons, God has sent forth the Spirit of His Son into your hearts, crying out, "Abba, Father!" Therefore you are no longer a slave but a son, and if a son, then an heir of God through Christ.
Another new grandbaby! What a precious treasure and what a delight to hold little Kylie Ann close and love her. She's so tiny and so perfect! I could watch her for hours. And it's a great joy watching her mommy and daddy care for her and fuss over her. Their tender, nurturing is already laying a healthy, godly foundation for this little one, and developing a sense of security and love in her.
As this tiny newborn nestles ever so securely in her daddy's arms, she simply rests. There is no fighting, no resisting, no pulling away. She lays there seeming perfectly content and completely unafraid and trusting. Safe in Daddy's arms is a great place to be. What a beautiful picture of total surrender!
Looking at this picture of simple trust, I am reminded of my need to rest in my Father's arms. No fighting, no resisting, no pulling away, just simply resting in the security He provides. My loving Heavenly Father always knows what is right and always does what is right. Knowing this allows me to trust Him completely. Truly He is my Abba—my Daddy—my protector and provider. I simply need to rest in Abba's arms.
Precious Father, thank You for the security that comes when I truly rest in You.
By Ann Shorb
Copyright Ann Shorb, 2012
Scripture taken from the King James Version of The Holy Bible.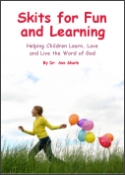 Skits for Fun and Learning
Skits for Fun and Learning is a collection of 15 puppet scripts and 5 articles on the subject of success with puppet ministries. The articles and scripts have been written by Dr. Ann Shorb and the book is available for purchase as a paperback, or as a PDF download.