II PETER 3:18
But grow in grace, and in the knowledge of our Lord and Savior Jesus Christ. To Him be glory both now and for ever. Amen.
Public schools, private schools, cyber schools, home schools, even Sunday schools are all gearing up for a brand new year of study and learning.  But learning is a process; it takes time. It also requires repetition, focus, patience and perseverance on the part of both the student and teacher. That's just the way intellectual growth takes place.
Spiritual growth is the same way. In the closing words of his second letter, the Apostle Peter reminds Christians that in order to keep from being carried away by false teachers and living a life without holiness, it is necessary to continue to grow in grace and in knowing more about the Lord Jesus Christ. Bible scholar Matthew Henry says that we must "Labour to know Christ more clearly, and more fully; to know Him so as to be more like Him, and to love Him better."
Learning more about Christ and living more like Christ is a day by day process. It means being extremely diligent about increasing our faith by adding virtue, knowledge, self-control, perseverance, godliness, brotherly kindness, and love to the way we live, (II Peter1:5-8). This involves repetition, focus, patience and perseverance both intellectually and spiritually. So in order to live a holy life, we have to keep on learning and keep on growing!
Gracious Lord, I long to grow in grace and in knowledge of the Lord Jesus Christ, but sometimes I get weary or distracted. Help me to keep practicing the disciplines of repetition, focus, patience and persistence.
By Ann Shorb
© Copyright Ann Shorb, 2009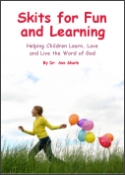 Skits for Fun and Learning
Skits for Fun and Learning is a collection of 15 puppet scripts and 5 articles on the subject of success with puppet ministries. The articles and scripts have been written by Dr. Ann Shorb and the book is available for purchase as a paperback, or as a PDF download.