PSALM 9:2 (KJV)
I will be glad and rejoice in Thee: I will sing praise to Thy name, O Thou most High.
Katherine Rose arrived just a few days before Thanksgiving—my fifth grandchild. What a joy it has been to be here with my daughter and her family to share in these first days of little Katherine's life. She's so tiny, so delicate, and so precious. It's exciting to watch her older brother and sisters delight in her, to see her mother and dad's joy and pride, and to welcome this child to our family.
Nothing brings joy to a family like the birth of a baby! Each new life provides not only happiness for the present, but hope for the future and for all that child will become in the years ahead. Thoughts, plans and dreams swirl through the minds of family and friends even before that baby arrives as we think of what he/she will be like. Each one is unique. Each one is special.
The Bible tells us that when a spiritual birth takes place, it's no different. When someone comes to Christ, the angels in Heaven rejoice (Luke 15:10). Knowing how thrilled we are to have a new addition to our physical family, I can't even imagine what the celebration in Heaven must be like when a soul is saved. Although it has occurred millions of times through the ages, each time a person is born into God's family, Heaven rejoices because each soul is precious and each is unique in the eyes of the Father. How exciting to know that God never gets tired of welcoming people into His family and Heaven never gets weary of rejoicing!
Heavenly Father, You are the giver of all life, both physical and spiritual. Please accept our thanks for the gift of Katherine Rose. We truly rejoice because of Your gracious kindness.
By Ann Shorb
©Copyright Ann Shorb, 2011
Scripture taken from the New King James Version. Copyright © 1982 by Thomas Nelson, Inc.  Used by permission.  All rights reserved.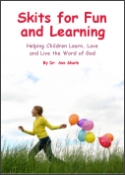 Skits for Fun and Learning
Skits for Fun and Learning is a collection of 15 puppet scripts and 5 articles on the subject of success with puppet ministries. The articles and scripts have been written by Dr. Ann Shorb and the book is available for purchase as a paperback, or as a PDF download.