TITUS 2:11-13 (NKJV)
For the grace of God that brings salvation has appeared to all men, teaching us that, denying ungodliness and worldly lusts, we should live soberly, righteously, and godly in the present age, looking for the blessed hope and glorious appearing of our great God and Savior Jesus Christ.
I confess—I'm a procrastinator, especially in some areas. I don't mean to be, but I get distracted by things that are more urgent, and sometimes by those that are more fun, more comfortable, or easier to do. When I realize that I'm stalling, if I tell myself, "Just do it! Just do it now!" it's much easier to get started on whatever I'm avoiding or putting aside.
Here in this verse, I see Paul encouraging his fellow believers to "Just do it now!" He tells them "live soberly, righteously, and godly in the present age." In other words, Paul's saying, "Don't wait for Heaven, just do it now while you're waiting for the Lord to return. Live soberly now. Live righteously now. Live godly now!"
Making a deliberate choice to turn away from ungodliness and worldly living right now is the first step in drawing closer to God, experiencing His power, and finding His peace and joy.
Perhaps you already committed to live for the Lord, but you've made wrong or unwise choices and now find yourself drifting away from Him—you maybe even far from Him. Ask God to forgive you. Then, seek His help in forsaking the things that are besetting you and get back on track.
Make a choice for godliness. Decide to do the right in this present moment. Don't wait till tomorrow, just do it now!
Prayer: Lord, help us to be aware of the choices we make and how they affect others as well as ourselves. Help us to live godly lives and draw close to You.
Words to Ponder: "Never forget: We are part of a vast unseen spiritual conflict that will only end when Christ returns. But we are not helpless pawns at the mercy of forces beyond our control. Instead, we have a choice every day—the choice to come near to God or to drift away from Him."
–Billy Graham, The Journey
Related Devotionals:
Making Habitual Decisions
By Ann Shorb
Copyright Ann Shorb, 2015
Scripture taken from the New King James Version. Copyright © 1982 by Thomas Nelson, Inc.  Used by permission.  All rights reserved.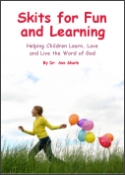 Skits for Fun and Learning
Skits for Fun and Learning is a collection of 15 puppet scripts and 5 articles on the subject of success with puppet ministries. The articles and scripts have been written by Dr. Ann Shorb and the book is available for purchase as a paperback, or as a PDF download.