JONAH 2:9 (KJV)
But I will sacrifice unto Thee with the voice of thanksgiving; I will pay that that I have vowed. Salvation is of the LORD.
There are a lot of lessons for us in the Old Testament book of Jonah.  Last week we looked at Jonah's disobedient reaction to God's command to preach His message of repentance to the wicked and barbaric city of Nineveh.  Instead of following God's direction, Jonah ran the other way, yet God spared his life by using a great fish to swallow the prophet when he was thrown overboard in an attempt to calm God's anger and the storm He sent.  Jonah learned that disobedience comes with a great price.
Jonah miraculously spent three days and nights in the belly of that fish without being consumed. From there he prayed with a repentant heart.  God heard his cry and caused the animal to spit the prophet onto dry ground.  Once again, God commanded Jonah to go to Nineveh and offer them a chance to repent and be forgiven to avoid God's judgment for their sinfulness.  This time Jonah obeyed!  The people of the city believed and received God's offer of salvation and truly turned from their wicked ways; God, in His mercy, spared that Gentile nation.
There are six major lessons we can draw from the book of Jonah:
1.  Disobedience always comes with a great price.
2.  Salvation does not come by our works, but salvation is a gift of God's grace.
3.  God is loving and gracious—and very patient.
4.  God's purposes of grace and forgiveness cannot be upset.  He was in control of the whole situation and He made sure His message got to Nineveh.
5.  God will not cast us away if we are faithless.  He gave Jonah a chance to repent, just as He gave Nineveh that same chance.
6.  God is concerned about all peoples, both Jew and Gentile.  The Old Testament primarily speaks of God's plan and purpose to send the Messiah through the nation of Israel, but He never forgot the Gentiles.  Jehovah is truly the God of all.
Such a tiny book, but so many powerful lessons!  It's one of the many treasures of God's Word.
Lord, help me to be faithful in seeking Your direction, heeding Your Word, and living out the plan You have for me.  Thank You for Your gifts of mercy, grace, love and forgiveness.
By Ann Shorb
©Copyright Ann Shorb, 2010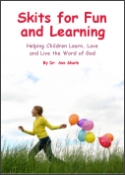 Skits for Fun and Learning
Skits for Fun and Learning is a collection of 15 puppet scripts and 5 articles on the subject of success with puppet ministries. The articles and scripts have been written by Dr. Ann Shorb and the book is available for purchase as a paperback, or as a PDF download.