JONAH 2:7 (KJV)
When my soul fainted within me I remembered the LORD: and my prayer came in unto thee, into thine holy temple.
The book of Jonah is an account of Jonah's own personal experience and his ministry in the city of Nineveh.  This great city was the capitol of Assyria, a country known for its strength and barbaric war tactics.  These heathen warriors had already defeated Israel in the plains, and therefore believed they were stronger than Israel's God.  Fear shot through Jonah when he heard God say, "Go to Nineveh and preach My word." Jonah seriously doubted that they would believe or care about his message that God was going to judge them for their sin if they didn't repent.  It was dangerous for him to deliver God's message.
It wasn't only risky for Jonah.  He knew that Assyria was Israel's greatest enemy and that they had the military strength to completely wipe out his entire nation.  No wonder Jonah was plagued with fear when he heard God's command to tell Nineveh to turn from its wicked lifestyle!
In addition, Jonah was already preaching repentance to his own nation of Israel without success.  If he couldn't get his own people to turn back to their God, how could he get the totally heathen nation of Nineveh to heed the same message?
When God said, "Go!" Jonah went—but in the opposite direction!  He found a ship headed for Tarshish.  As a result, God sent a life-threatening storm to get Jonah's attention.  At that point, Jonah confessed his disobedience to the men on the ship who were trying to discover what god was so angry and caused the storm.  Jonah insisted that the men throw him overboard to drown so they would be saved.  When they did, the storm ceased, and God interceded by having a great fish in just the right position to swallow the prophet, delivering him from death.  The whole ordeal was frightful, but Jonah learned a great lesson.
Disobedience always comes with a great price.  It may not be immediate as it was with Jonah, but God always disciplines those who refuse to follow His commands.
If you have time this week, read through the book of Jonah.  It's only four chapters long, but those pages are packed with a great message from God.  We'll talk more about this next week and see the lessons Jonah learned.  Those principles are good for us, too!
Father, if I had been in Jonah's shoes I probably would have run away, too.  It's good to know that when Your directions seem overwhelming and frightening to us, You give us courage and protection when we trust and follow You.
By Ann Shorb
©Copyright Ann Shorb, 2010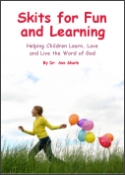 Skits for Fun and Learning
Skits for Fun and Learning is a collection of 15 puppet scripts and 5 articles on the subject of success with puppet ministries. The articles and scripts have been written by Dr. Ann Shorb and the book is available for purchase as a paperback, or as a PDF download.