I THESSALONIANS 4:16-17 (NKJV)
For the Lord Himself will descend from heaven with a shout, with the voice of an archangel, and with the trumpet of God. And the dead in Christ will rise first. Then we who are alive and remain shall be caught up together with them in the clouds to meet the Lord in the air. And thus we shall always be with the Lord.
The drive was long and tiring, but well worth it. After traveling more than 1,000 miles, I turned onto the gravel road leading to my destination and I could see five young faces waiting at the end of their driveway. I planned this trip, we talked about it on the phone, and they were expecting me. They knew I was coming. Once my car came into their sight, they waved and jumped and clapped. "Grammy's here!" They were obviously excited–but I think I was even more elated than they were! It was wonderful to be welcomed so lovingly and to know they longed to see me.
The Bible tells us that one day the Lord Jesus Christ will return and remove His followers suddenly from the earth. We call that the Rapture. In that moment, Christ will descend from Heaven, and in the blink of an eye, He will gather to Himself all those living souls who have trusted in Him, and they will dwell with Him eternally.
There is much curiosity and debate as to when this great event will occur. While many have speculated and some have even declared they had a special revelation concerning that time, Jesus told His followers, "But of that day and hour no one knows, not even the angels of heaven, but My Father only. (Matthew 24:36)
Although we do not know the exact time of His return, Christ will return! That is certain, and it could happen any day! Knowing that He is coming, we are to be ready, eagerly awaiting, and looking for His arrival.
So let's live with the anticipation and enthusiasm of excited children standing by the roadside awaiting the arrival of a loved one. What an awesome moment that will be as we see our beloved Savior and are joined with Him and reunited with loved ones who have gone on before us. How exciting to know that it could happen at any time! In fact, it may be today!
PRAYER: Lord Jesus, may the hope of Your return fill us with joy and motivate us to live each moment of every day doing Your will as we wait to see Your face.
WORDS TO PONDER: "While Scripture presents many signs of Christ's Second Coming and the establishment of His Kingdom, there are no predicted events preceding the Rapture. It could happen at any time."
–John F. Walvoord, Theologian and Author
By Ann Shorb
©Copyright Ann Shorb, 2014
Scripture taken from the New King James Version. Copyright © 1982 by Thomas Nelson, Inc.  Used by permission.  All rights reserved.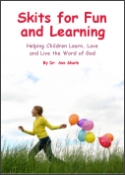 Skits for Fun and Learning
Skits for Fun and Learning is a collection of 15 puppet scripts and 5 articles on the subject of success with puppet ministries. The articles and scripts have been written by Dr. Ann Shorb and the book is available for purchase as a paperback, or as a PDF download.