Psalm 46:1
God is our refuge and strength, a very present help in trouble.
Psalm 150:1
Praise ye the LORD. Praise God in His sanctuary: praise Him in the firmament of His power.
Sitting in the park I watched the mothers interact with their children. One particular mom with several children repeatedly drew my attention because it was obvious that she didn't want to be bothered by them at that moment. Over and over again when they came to her, she pushed them away with words and actions. "Go play . . . Go find something to do . . . Go be with your brother." Her tone reflected her annoyance when they interrupted her as she sat on the bench. With sadness the children went back to play. All moms need a break, and I'm sure it felt good for her to relax for a while, but I wondered what the constant pushing away must be doing to the children.
In contrast, another mother sat across the park watching as her little ones giggled and played actively. Every few minutes one of them ran excitedly to tell her something. She looked into that child's eyes, nodded and smiled as she listened attentively. Then the child ran back to his play. When her little fellow came hobbling over with a scraped knee, a tear trickling down his cheek, Mother saw him coming and reached out her arms. Tenderly she took the child, set him on her lap, wiped and kissed the knee, and brushed away the tears. The kiss didn't do a whole lot towards healing the knee, but it definitely touched the heart of the wounded child. He felt loved, cared for, and secure. In joy or in sorrow he knew he could run to his mom.
What a beautiful picture of the open relationship we have with our Heavenly Father. Scripture tells us that He longs to be to there for us, no matter what. In the bad times He longs to be our refuge and strength. In the good times He desires to share our joy as we praise Him. We don't ever have to be afraid that He will push us away, or tell us to leave Him alone. He's always waiting to welcome us with loving arms. That certainly makes me feel loved, cared for, and secure. What blessed peace!
Beloved Father, how grateful I am that in joy or in sorrow I can come and find You always there. Thank You for never leaving, for never going to sleep, for getting tired of listening to me. I love you, Lord.
By Ann Shorb
Copyright 2007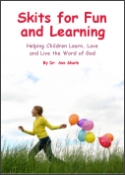 Skits for Fun and Learning
Skits for Fun and Learning is a collection of 15 puppet scripts and 5 articles on the subject of success with puppet ministries. The articles and scripts have been written by Dr. Ann Shorb and the book is available for purchase as a paperback, or as a PDF download.