EPHESIANS 5:1-2 (NKJV)
Therefore, be imitators of God as dear children.  And walk in love, as Christ also has loved us and given Himself for us, an offering and a sacrifice to God for a sweet-smelling aroma.
The voice on the radio was loud and clear as it called out the invitation to an upcoming concert–"Coming soon to your local performing arts center, a special presentation by Elvis Presley tribute artist . . ."  The date, time, and place, and the name of the performer were all spelled out so everyone could be there to see this man imitate the popular singer and performer, Elvis Presley.  I'm sure Elvis himself had no idea that decades after his death, others would still be trying to be just like he was.
These performers try to look like him, sound like him and sing his music just as he did.  They make every effort to talk and walk and move just like Elvis.  In every detail possible, they try to be like the one they admire so much.
As believers in Christ, you and I are called to be tribute artists as well.  Ephesians 5:1 tells us to be "imitators of Christ".  Ours is to be not just a performance, but a true and genuine day by day, hour by hour representation of the Lord Jesus Christ.  It's not about trying to imitate the way He dressed or the sound of His voice.  It's about living a life-style that reflects His character, and the only way we can accomplish this is to be "filled with the Spirit," (Ephesians 5:18).  How exciting that God not only calls us to imitate Christ, but gives us His Spirit to help us do that.
There are thousands of Elvis Presley imitators and some of them are quite authentic, while others give a very poor impression of who he was.  How authentic is your day by day presentation of the Lord Jesus Christ?
Lord Jesus, help me today to live a life that is so in keeping with the way You lived Your life that others will look at me and see You.
By Ann Shorb
©Copyright 2010, Ann Shorb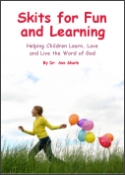 Skits for Fun and Learning
Skits for Fun and Learning is a collection of 15 puppet scripts and 5 articles on the subject of success with puppet ministries. The articles and scripts have been written by Dr. Ann Shorb and the book is available for purchase as a paperback, or as a PDF download.