Proverbs 18:24 (NKJV)
. . . there is a friend who sticks closer than a brother.
The lady's voice was soft as she spoke. Her words came slowly through her tears when she said, "I'm surrounded by people every day, so I'm not alone. In fact, I hardly ever have any time to myself, yet I'm still so terribly lonely. Is that possible to be surrounded by people and still feel lonely?"
The answer to that is "Yes, absolutely!"
Sadly, millions of people everyday experience the same feelings of being disconnected, isolated, and lonesome even though they are not alone. In a room full of people, on a crowded subway, or in a difficult relationship, that sense of loneliness and lack of support can overwhelm you if you feel disconnected and isolated from those around you.
The good news is, if you are a child of God, you never have to stay stuck in those feelings. You can remind yourself that you have His Spirit always with you. Then, like with any other companion, you can enjoy sweet conversation and warm fellowship as you talk to your loving Heavenly Father in prayer—and you can hear Him speak to you as you pray, read His Word, or spend time in solitary meditation. Even though you can't see or physically touch Him, you can feel His presence, sense His support, and know His love in those difficult times.
Taking the time every day to develop a close, intimate relationship with the Lord provides you with a constant awareness of His presence and a shield against loneliness. If you do these things and still feel an ongoing sense of aloneness, seek professional help from a medical doctor or counselor. There may be some physical problem causing depression or other related illness. God created us with the capacity to enjoy relationships with Him and with others. Don't stay stuck in loneliness.
PRAYER: Abiding Lord Jesus, keep me constantly aware that even when I feel disconnected from others, I can always have communion with You.
WORDS TO PONDER:
"And He walks with me, and He talks with me,
And He tells me I am His own;
And the joy we share as we tarry there,
None other has ever known."
–C. Austin Miles (1868-1946), "In the Garden"
RELATED DEVOTIONAL AND HYMN:
By Ann Shorb
©Copyright, Ann Shorb, 2017
The New King James Version. Copyright © 1982 by Thomas Nelson, Inc.  Used by permission.  All rights reserved.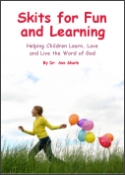 Skits for Fun and Learning
Skits for Fun and Learning is a collection of 15 puppet scripts and 5 articles on the subject of success with puppet ministries. The articles and scripts have been written by Dr. Ann Shorb and the book is available for purchase as a paperback, or as a PDF download.