2 Corinthians 13:11 (NKJV)
Finally, brethren, farewell. Become complete. Be of good comfort, be of one mind, live in peace; and the God of love and peace will be with you.
A couple of my friends are preparing to move soon, and I don't envy them. Moving is never easy. It takes work to sort, to get rid of, to pack, to transport, to unpack, and to put in place—and then to remember where you put everything!
Actually, I'm an expert at moving. In the first ten years after I graduated from college, I moved twelve times– from Michigan to Pennsylvania to France, to Zaire (now called Congo). Then it was back to the U.S. for more training and another transition which took my family to Pennsylvania, Michigan, Missouri, and Maryland. After that we went back to France for a few more years, then once more to Missouri, and finally to Pennsylvania.
Those were exciting years of ministering, maturing, and seeing new places. And with all that experience, I mastered the art of packing and unpacking, but the really hard part about moving so often was saying, "Good-bye", to places we enjoyed, and especially to our family, and the friends we made.
Most often moving involves leaving the familiar and walking into the unknown, and that can be extremely difficult, and sometimes even a bit frightening. Yet no matter where I lived, whether in North America, Europe, or Africa, one Friend never left my side. He never said, "Farewell". He never abandoned me. He never said, "You go ahead and I'll come later." No, He never left me alone. NEVER!
As a follower of the Lord Jesus Christ, what a comfort it is to know that His Holy Spirit indwells me, and wherever I go, He goes. I'm never alone. The God of love and peace is always with me.
PRAYER: Living Lord Jesus, what a comfort to have You as my constant companion no matter where I am, or where I may be going. Your presence is my anchor and hope in all things. For this I am truly grateful.
WORDS TO PONDER:
"Constantly abiding, Jesus is mine;
Constantly abiding, rapture divine;
He never leaves me lonely, whispers, O so kind:
"I will never leave thee," Jesus is mine."
–Anne S. Murphy,(1877-1942) from the hymn "Constantly Abiding"
By Ann Shorb
©Copyright, Ann Shorb, 2017
The New King James Version. Copyright © 1982 by Thomas Nelson, Inc.  Used by permission.  All rights reserved.
A New Bible Study Starting Tuesday, September 5, 2017!
Overcoming Worry
Tuesdays, 9:30 to 11:00 A.M.
September 5 to December 5, 2017
Held at First Baptist Church
217 Fulton St., Hanover, PA 17331 (Lower Level)
Get more information here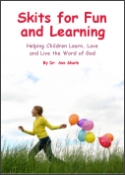 Skits for Fun and Learning
Skits for Fun and Learning is a collection of 15 puppet scripts and 5 articles on the subject of success with puppet ministries. The articles and scripts have been written by Dr. Ann Shorb and the book is available for purchase as a paperback, or as a PDF download.