EPHESIANS 3:22-24
That ye put off concerning the former conversation the old man, which is corrupt according to the deceitful lusts; and be renewed in the spirit of your mind; and that ye put on the new man, which after God is created in righteousness and true holiness.
If you find yourself frequently feeling negative and down, stop and really listen to what's being said around you. Is there a lot of grumbling and complaining? Are the people you spend time with constantly expressing discouraging thoughts and feelings? Is what you hear depressing you? If so, take action. Don't let these negative things seep into your mind and pull you down.
Also listen to yourself. Maybe you are the one who is griping and complaining. Without realizing it, many times we become our own worst enemy by developing angry or bitter attitudes about ourselves, others or our situation. Remember that your thoughts and attitudes are your choice. Where you put your mind is up to you!
Whether you're being influenced by others around you or by your own harmful perceptions, there is a way to rise above negativism.  Follow what the apostle Paul wrote about putting off the negative and putting on the positive (Colossians 3 and Ephesians 4:20-32).  Yes, acknowledge that there are problems and difficulties in your life, but don't dwell on them. If possible, do what you can to remedy the situation. Remember, though, that you can never change another person, only yourself and your attitudes. Then try to find the positives in your circumstance and in other areas of your life. Focus on these and be thankful that God promises to be with you always—even through the hard times.
Praise God and pray that He will help you focus your thinking on healthy and godly issues. Use cheerful music, encouraging CD's or radio, scripture cards or just quote Bible verses and inspirational sayings to re-focus when your thinking starts to go in a wrong direction. Also pray for those around you who are pulling you down. You'll find your attitude towards them changes as you bring their cares and concerns before the Lord.
If you find that there are some issues that just won't go away, or hurts from the past that cause you continual pain, heartache, and distrust, seek counsel from a pastor, another mature believer, or a professional counselor.
All of this may take some work, but the benefits are well worth it. By changing your thinking you change your outlook, and by changing your outlook you change your life. You don't have to stay stuck in the rut of despair!
Help me, Lord, to stay focused on You and on the positive things and people around me. I want my life to reflect Your joy.

By Ann Shorb
©Copyright Ann Shorb, 2009
FREE DOWNLOAD!
"Back to School With Success"– Practical tips and resources for parents
Get it from our Brochures page. This brochure can be printed and distributed free of charge to students and parents in your church, school or organization.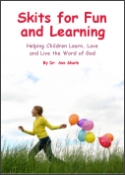 Skits for Fun and Learning
Skits for Fun and Learning is a collection of 15 puppet scripts and 5 articles on the subject of success with puppet ministries. The articles and scripts have been written by Dr. Ann Shorb and the book is available for purchase as a paperback, or as a PDF download.