GALATIANS 6:2
Bear ye one another's burdens, and so fulfill the law of Christ.
All around us people are hurting! Many of them you never even notice because they pass you on the street looking fine. But what can you do when your friend or family member is hurting? Below are some suggestions for ways in which you can be of help and support when someone you care about is going through a tough time.
1. Listen! Just listen. Having someone to talk to is a tremendous support for most people when they are going through a rough time.
2. Pray with your friend. Ask God for specific answers to the needs that you hear your friend speak about.
3. Commit to pray for your friend daily. Drop him/her a note occasionally to ask if there is anything special to pray for at that point in time.
4. Send a note, card, text, email, etc. of encouragement from time to time.
5. Print words of encouragement and inspiration on 3 x 5 cards. Give them to your friend and suggest that he/she put them in places where they are easily seen, and read them regularly, especially when feeling down. You may prefer to make some poster size.
6. As the Holy Spirit leads you, share special passages from the Bible, but don't preach. Have them marked and read them to your friend if he/she is unable to read alone.
7. Read and record your favorite verses of Scripture, poems, or inspirational stories. Burn them to a CD or put them on your friend's cell phone recorder, with permission, of course. Give these to your friend to listen to whenever he/she needs a word of encouragement.
8. Do a Bible study together. For example, if anxiety is an issue, study Philippians 4:4-9; Mathew 6:25-34; Psalm 46:1-11; Psalm 91:1-16; Romans 12:17-21; or Ephesians 2:11-22. There are many on-line studies available.
9. Be of practical help. Provide an occasional meal. Help with cleaning, laundry, outside work around the house, or childcare. Drive and/or accompany your friend to appointments. Ask what your friend needs and try to help meet those needs—but don't feel you have to do it all yourself. Enlist others, if possible, to do various tasks.
10. Help your friend get help. Many times a person needs more help than you can give. Sometimes the greatest gift you can give is to help another person find the help he/she needs.
This certainly isn't an exhaustive list! There are a multitude of things you can do to show your love, care, and concern when a friend or loved one is hurting. Ask God to make you sensitive to the needs of others, and then ask your friend what he/she would like you to do. And do it!
Download this article in PDF format so you can print it and keep it handy.
PRAYER: Lord Jesus, there are so many hurting people around me. Show me which ones I am to minister to. Help me to show them Your love in action and be a blessing to them at this difficult time.
WORDS TO PONDER:
"The need for friends is imperative. It is not good for us to be friendless. We were made to give and to receive, to help and to be helped, to encourage and to be encouraged. Our nature requires a tie to faithful others. We call it friendship.
–Leroy Brownlow, Author and Minister
By Ann Shorb
©Copyright Ann Shorb, 2015
Scripture taken from the New King James Version. Copyright 1982 by Thomas Nelson, incorporated. Used by permission. All rights reserved.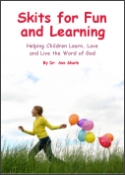 Skits for Fun and Learning
Skits for Fun and Learning is a collection of 15 puppet scripts and 5 articles on the subject of success with puppet ministries. The articles and scripts have been written by Dr. Ann Shorb and the book is available for purchase as a paperback, or as a PDF download.