PSALM 27:14
Wait on the LORD: be of good courage, and He shall strengthen thine heart: wait, I say, on the LORD.
When I feel God calling or causing me to sit still and wait, my first reaction is often to think I'm shirking some responsibility or wasting time.  In a world that cries, "Do it now!  Do it faster!  Time is money!" the concept of waiting just doesn't seem to fit; however, I know that if God is saying "Wait," there is a reason.  At that moment, then, I must ask myself, "How do I wait?"  What should my attitude be as I wait on God?

Here's what His Word tells me:
Wait with patience knowing that God is working.
Rest in the LORD, and wait patiently for Him: fret not thyself because of him who prospers in his way . . . For evildoers shall be cut off: but those that wait upon the LORD shall inherit the earth, (Psalm 37:7, 9).

Wait with expectation and hope knowing that He works all things for good.
I waited patiently for the LORD; and He inclined unto me, and heard my cry.  He brought me up out of an horrible pit, out of the miry clay, and set my feet upon a rock, and established my goings, (Psalm 40:17).
Wait with a teachable spirit knowing that as I wait with the right attitude, I am actually growing and maturing as He desires.
Lead me in thy truth, and teach me: for Thou art the God of my salvation; on thee do I wait all the day, (Psalm 25:5b).
Knowing this, that the trying of your faith worketh patience.  But let patience have her perfect work, that ye may be perfect and entire, wanting nothing, (James 1:3-4).
As I remember that God is faithful and that He is always working for my good and His glory, I can relax and joyfully wait on Him to accomplish His purposes.  My attitude then depends on letting what I know override what I feel!

Loving Father, let the truth of Your faithfulness and goodness always be evident in my attitude.
By Ann Shorb
Copyright Ann Shorb, 2017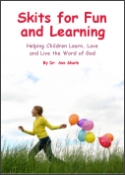 Skits for Fun and Learning
Skits for Fun and Learning is a collection of 15 puppet scripts and 5 articles on the subject of success with puppet ministries. The articles and scripts have been written by Dr. Ann Shorb and the book is available for purchase as a paperback, or as a PDF download.