ISAIAH 55:8-9 KJV
"For my thoughts are not your thoughts, nor are your ways My ways," says the Lord. "For as the heavens are higher than the earth, so are My ways higher than your ways, and My thoughts than your thoughts."
Some things just don't make sense! Why is it that seemingly good people suffer? Why does God allow terrorists to kill so many innocent people? Why does one spouse walk out on the other without a word? And why do children stray from good families? When human logic can't provide any explanations and we just can't figure things out, we have to look to the Lord through eyes of faith, believing that He has all the answers.
The Prophet Isaiah captured the words of the Lord and understood that because God knows all things and sees the end from the beginning, He can be trusted. His wisdom goes far beyond the Heavens, and exceeds our understanding. Because He sees the whole picture, He knows exactly what is best for each one of us in every situation, and He can take even the most difficult situation and turn it into something worthwhile–something that will be for our good and His glory.
But in those moments when we don't understand, when we just can't make sense of things, we can echo the words of the Psalmist who said, "I wait for the Lord, my soul waits, and in His word I put my hope. My soul waits for the Lord more than watchmen wait for the morning, more than watchmen wait for the morning." (Psalm 130:5-6)
When it is hard to hang on – look to the Lord and to His Word. Grab His promises. Spend time in prayer, and try praying those promises back to Him. Share with Him your deepest thoughts and needs. Things still may not make sense to you and to me, but we can be assured that God has it all under control. His ways are higher than yours or mine, and He certainly has a purpose in all things.
PRAYER: All-Knowing Father, You are mighty in thought, and word, and deed. Bless us with eyes of faith to see the path before us, and hearts to hear Your voice directing us each step along life's journey.
By Ann Shorb
© Ann Shorb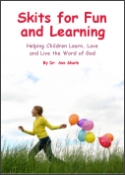 Skits for Fun and Learning
Skits for Fun and Learning is a collection of 15 puppet scripts and 5 articles on the subject of success with puppet ministries. The articles and scripts have been written by Dr. Ann Shorb and the book is available for purchase as a paperback, or as a PDF download.