JOHN 14:1-3 (NKJV)
"Let not your heart be troubled; you believe in God, believe also in Me.  In My Father's house are many mansions; if it were not so, I would have told you. I go to prepare a place for you.  And if I go and prepare a place for you, I will come again and receive you to Myself; that where I am, there you may be also."
On Monday I went to get my haircut, but instead I walked in on a theological discussion. My hairdresser and her previous client were standing in the doorway discussing eternity. "Oh, I can't wait!" said the lady who was just leaving. "All this other stuff will be over!" And all three of us agreed that Heaven looks better every day!
The lady left and I went inside and climbed into the chair. Our discussion continued as my hairdresser began working on me. She shared something that was extremely obvious and simple, yet so incredibly profound that I've been thinking about it all week.
Intellectually those of us who are Christians know that Heaven is the most wonderful place we can imagine. In fact, it's beyond anything we can imagine! Still we may sometimes have an uneasiness about going there because of the uncertainty of what it will really be like. All of us fear the unknown at times. The strange thing is that the world we now live in has more uncertainly about it than Heaven does, but because we're here now and we can see things, somehow it doesn't seem that way.
Here on earth, we are subject to uncertain weather conditions, unstable governments, unexpected tragedies, a fragile and fluctuating economy, and unstable relationships. We're surrounded by diseases and difficulties that can harm us, and we are without any guarantee of even living another day. Talk about uncertainties–this life is full of them!
In contrast, the Bible tells us Heaven's riches are unlimited and indestructible, Christ is the Light, there will be no fighting, no tears, no parting, no sickness, no sorrow, no dying. We'll have new bodies that will not decay and our life will be everlasting. Best of all, God is there and we will finally be able to see Him face to face, and live forever in His presence.
When you stop to think about it, we know much more about Heaven than we know about what will happen in this world today. So why should we fear, fret, falter or faint at the thought of our eternal home? God's Word tells us all we need to know about what it will be like. We can believe in, trust in, and rest on those promises because God's Word is completely sure and forever certain!
Prayer: Heavenly Father, thank You for place You are preparing for us so that we may dwell with You forever.
Words to Ponder: "O that will be glory for me . . . When by His grace I shall look on His face, That will be glory, be glory for me."
— Charles H. Gabriel, 1856-1932
RELATED DEVOTIONALS AND HYMNS
By Ann Shorb
Copyright Ann Shorb, 2013
Scripture taken from the New King James Version. Copyright © 1982 by Thomas Nelson, Inc.  Used by permission.  All rights reserved.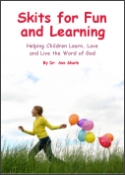 Skits for Fun and Learning
Skits for Fun and Learning is a collection of 15 puppet scripts and 5 articles on the subject of success with puppet ministries. The articles and scripts have been written by Dr. Ann Shorb and the book is available for purchase as a paperback, or as a PDF download.