Psalm 73:28
But it is good for me to draw near to God: I have put my trust in the Lord GOD, that I may declare all Thy works.
Keeping a consistent daily quiet time with God is one of the hardest things we face in our Christian life. Why? Because our adversary the devil, knows that therein lays the secret of our strength and victory as believers. If he can get us off track, our power and wisdom are diminished, therefore, it's essential to develop the habit of regularly meeting with God.
Determine the time of day that works best for you and don't put anything else in its place. Every day I write in my appointment book things that need to be done, meetings to attend and places to go. Shouldn't my meeting the King of Kings be important enough to put on my daily agenda?
Designate a place where you can be uninterrupted. (I can hear young mothers saying now, "And where would that be?") For some it's a favorite chair or room in the house. Others find tranquility in the early hours at the office or shop. Whatever spot you choose, keep your Bible, devotional and study books, prayer journal, pen and any other materials you need close by.
Develop a plan for studying or reading. Will you read through the Bible in a year? Do you want to study a particular book of the Bible? Are daily readings from a prepared devotional book your preference? As you plan for the new year, start now to find good materials to help you grow closer to the Lord. Prayerfully ask God to guide you to the resources that are just what you need to learn from and be encouraged by in the weeks and months ahead. We have several helpful suggestions below.
A daily time of meditation, study and prayer are as essential to your spiritual health as nutritious food is to your physical well-being. Make an appointment with God and make it a priority to be there!
Dear God, whenever I draw close to You I find comfort, forgiveness, peace, hope and joy. I find strength and wisdom available to me as I let Your Spirit speak to me through Your Word. Help me to be faithful in my commitment to meet with You daily and to surrender to Your will.
For more information on how to have a daily quiet time, and free downloads, please visit www.ccesonline.com/daily-devotionals.htm and www.ccesonline.com/how-to-have-quiet-time.htm
By Ann Shorb
©Copyright Ann Shorb, 2007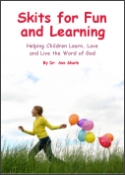 Skits for Fun and Learning
Skits for Fun and Learning is a collection of 15 puppet scripts and 5 articles on the subject of success with puppet ministries. The articles and scripts have been written by Dr. Ann Shorb and the book is available for purchase as a paperback, or as a PDF download.