The devotionals for the month of August are written by Cindi Wilmot, a counselor at Christian Counseling & Educational Services, during her recovery from a severe accident.
JOHN 20:27 (NIV*)
Put your finger here; see my hands. Reach out your hand and put it into my side. Stop doubting and believe.
Many people have been praying for complete healing of my body after I was burned in a fire in our home. Prayers have included that I will not have scars or pain. Please understand first that I greatly appreciate the prayers and that I am certain prayer has sustained my family and me through this time. At the same time, in some odd way, I feel that having a scar (barely noticeable would be nice!) and even pain is just a good and constant reminder of God's working in and through the situation.
A family friend was in a motorcycle accident a year ago, which resulted in the amputation of his leg several months later. He has been a great support to me through the healing process, so I asked him if he felt the same way about his scars and his amputation. He began to laugh and said that he did feel that way! It is similar to the feeling that we have when looking back at a difficult time and saying, "That was very difficult and I wouldn't want to do it again, but I'm glad it happened because I grew a lot through it."
When you face emotional and relational challenges, there are often scars that go along with those wounds. Some of the scars might include being cautious, guarding your heart, and being protective of yourself. Scars are not the same as open wounds; instead they are a reminder that the former wound no longer has power over you. Jesus had scars and look at what those scars accomplished!
Lord, may the emotional and relational scars I bear serve to remind me that You have brought healing.
By Cindi Wilmot
©Copyright 2011, Cynthia L. Wilmot
Read Dr. Ann Shorb's words about Cindi's accident.
*Scripture taken from The HOLY BIBLE, NEW INTERNATIONAL VERSION ®. Copyright © 1973, 1978, 1984 by the International Bible Society. Used by permission of Zondervan. All rights reserved.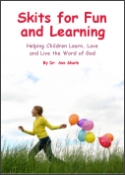 Skits for Fun and Learning
Skits for Fun and Learning is a collection of 15 puppet scripts and 5 articles on the subject of success with puppet ministries. The articles and scripts have been written by Dr. Ann Shorb and the book is available for purchase as a paperback, or as a PDF download.