Ephesians 5:20 (NKJV)
Be filled with the Spirit . . . giving thanks always for all things to God the Father in the name of our Lord Jesus Christ.
Author Jerry Bridges has a way of going straight to the heart of the issue when he writes. In his book RESPECTABLE SINS he challenges us to follow  the direction of the Apostle Paul to give thanks ALWAYS and for ALL things.  Bridges boldly declares, "Giving thanks to God for both his temporal and spiritual blessings in our lives is not just a nice thing to do–it's the moral will of God. Failure to give him the thanks due him is sin. It may seem like a benign sin to us because it doesn't harm anyone else. But it's an affront and insult to the one who created us and sustains every second of our lives."
You may say grace before eating your meals, and even thank the Lord for some blessings before you close your eyes and sleep, but what about the rest of the day? There's so much to be thankful for, but I am afraid we all fail to regularly express our thanks to our Great Provider for the simple and ordinary things. When was the last time you thanked God for a glass of water, or the friend who just gave you an encouraging word, or the ability to see and to read?
Someone has said, "What if you got up today and had only the things you thanked God for yesterday?"
That's a really challenging question and a lot to think about!
As we approach the Thanksgiving holiday, it's a great time to work on increasing our level of thankfulness each day.
Ask God to help you see the blessings all around you.  Then be intentional about expressing your gratitude to Him, and to others. It will change your outlook and lift your mood when you "give thanks always for all things"!
PRAYER:  Heavenly Father, You give me so many blessings each day that I cannot even count them. Please help me not to take them for granted, but to remember that each one is a special gift of Your love for me.
–By Ann Shorb
Copyright,  Ann Shorb,  2017
Scripture taken from the New King James Version. Copyright 1982 by Thomas Nelson, Inc. Used by permission. All rights reserved.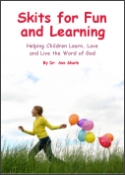 Skits for Fun and Learning
Skits for Fun and Learning is a collection of 15 puppet scripts and 5 articles on the subject of success with puppet ministries. The articles and scripts have been written by Dr. Ann Shorb and the book is available for purchase as a paperback, or as a PDF download.