PSALM 48:14 (NKJV)
For this is God,
Our God forever and ever;
He will be our guide
Even to death.
Knowing the right thing to do isn't always easy! There are many specific principles given in the Word of God telling us how He wants us to live, but what about those "gray areas" where nothing specific is stated? The Bible gives us general principles to follow in determining what to do in those cases. Here are several guidelines that will help you find direction in those unspecified areas:
I Corinthians 10:31 (NKJV)
Therefore, whether you eat or drink, or whatever you do, do all to the glory of God.
I Corinthians 6:12 (NKJV)
All things are lawful for me, but all things are not helpful. All things are lawful for me, but I will not be brought under the power of any.
Romans 14:13 (NKJV)
Therefore let us not judge one another anymore, but rather resolve this, not to put a stumbling block or a cause to fall in our brother's way.
II Peter 3:11, 14 (NKJV)
Therefore, since all these things will be dissolved, what manner of persons ought you to be in holy conduct and godliness . . . be diligent to be found by Him in peace, without spot and blameless.
Read these scriptures and meditate on them. Then ask yourself these three questions about the conversation or actions you are questioning:
Will doing or saying these things honor and please the Lord?
Would doing or saying these things help me or hurt me in the long run? Will it help or hurt others?
Would I do or say these things if I could see Jesus standing right next to me?
Just imagine how different life would be if you and I lived daily by the principles in these verses! Knowing that God's Spirit is ready and to guide us each day, the question becomes, "Am I willing to ask God to help me make the changes necessary to live His way?"
Get a printable copy of this worksheet.
Lord, in a generation where holy living seems to be a thing of the past, please help me to be so in tune with You, Your Spirit, and Your Word that every decision I make is guided by Your thoughts.
By Ann Shorb
©Copyright 2011, Ann Shorb
Scripture taken from the New King James Version. Copyright © 1982 by Thomas Nelson, Inc.  Used by permission.  All rights reserved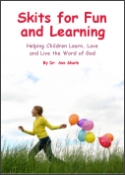 Skits for Fun and Learning
Skits for Fun and Learning is a collection of 15 puppet scripts and 5 articles on the subject of success with puppet ministries. The articles and scripts have been written by Dr. Ann Shorb and the book is available for purchase as a paperback, or as a PDF download.