ISAIAH 30:19
He will be very gracious unto thee at the voice of thy cry; when He shall hear it, He will answer thee.
The focus of our devotionals this month has been prayer. It's such a needed part of our daily lives, but sometimes it seems overwhelming. A dear friend once exclaimed, "There's so much to pray for! My prayer list is so long that I can't even get through it all." I understand what she means. Believing that prayer is one our best weapons against the struggles and stresses of life, as well as a primary means of worshiping our Heavenly Father, it seems we could shut ourselves in our prayer closet and be there all day and night.
To help with this dilemma, some folks use a prayer list of important items and pray through certain sections each day. Others keep a prayer calendar that gives specific requests for each day. Years ago someone came up with a helpful little guide to daily prayer using your hand as a reminder. I think it's great!
1.  Your Thumb – Because it's the nearest to you, let this finger remind you to pray for family and friends who are closest to you. Pray for them by name, remembering their specific needs and requests.
2. Your Index or Pointer Finger – This speaks of those who "point others in the direction of truth and right living" by their teaching, preaching, and instruction. Pray for teachers, pastors, missionaries, Christian authors, and those in the helping professions. Ask the Lord to give them wisdom and discernment as they seek to guide others in doing things God's way.
3. Your Third Finger – Let your tallest finger prompt you to pray for those who are in leadership over you. This includes the president and other government leaders, as well as leaders in your local church, schools, community, and place of employment.
4. Your Fourth Finger – As the weakest finger, this one reminds you to pray for those who are experiencing some type of physical, mental, emotional or spiritual weakness right now. Those who are suffering value your prayers.
5. Your Little Finger – Your smallest finger reflects your need to pray for yourself with meekness and humility. Don't neglect praying for your own needs and desires, but do so recognizing that your greatest goal should always be that "He must increase, but I must decrease," (John 3:30).
The Five-Finger Prayer Guide is easy to use for children as well as for adults. You can use it each day to remind you to pray for different areas of needs, or you can use it weekly starting with the first finger on Monday and praying through the five work/school days being prompted by a different finger each day. On weekends, let praise and worship become your primary focus.
There are numerous variations of little guide. Feel free to adapt it to your particular needs and style of praying. However you use it, though, you will bless others and you will be blessed as you make prayer a regular part of daily living.
Lord Jesus, thank You for the privilege of praying for others. Help me to be faithful in bringing their needs before You as well as in coming to You with my own needs.
By Ann Shorb
©Copyright Ann Shorb, 2008
A Printable copy of the Five-Finger Prayer Reminder is also available.
For more devotionals on prayer, see: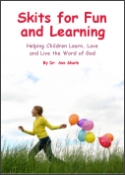 Skits for Fun and Learning
Skits for Fun and Learning is a collection of 15 puppet scripts and 5 articles on the subject of success with puppet ministries. The articles and scripts have been written by Dr. Ann Shorb and the book is available for purchase as a paperback, or as a PDF download.