JOHN 5:24
Most assuredly, I say to you, he who hears my word and believes in Him who sent me has ever lasting life, and shall not come into judgment, but has passed from death into life.
Recently I drove past the local high school where hundreds of chairs lined the lawn. It was graduation day! The date and time of this big event was set before the school year started, and it finally arrived. Teachers planned and students worked hard to come to that happy moment.
Graduation is a milestone accomplishment, and always carries with it a time of transition as one phase of the journey ends, and the next begins. This time of year, we think of those who are passing from one academic level to another, but life has many other types of graduations . . . from being single to being married, from being a couple to becoming parents, from one job or position to a better one, or from living in a small house to a bigger one.
Of course, our ultimate graduation is the day we move from this earthly life into the loving arms of our Heavenly Father. What a wonderful transition that will be! But unlike other graduations with a set time and place, you cannot know exactly the date and time when your celebration will take place. Thankfully, you can prepare so you're ready at any time.
First, make sure you have a secure relationship with the Lord Jesus Christ as your Savior. Without that there will be no graduation.
Then, intentionally spend time with Him each day in prayer and Bible reading. As often as possible, really dig into the word and study, learn, memorize, and grow.
Daily ask Him to search your heart and show you what is good and needs to continue in your life. Keep doing those things, but also ask the Holy Spirit to reveal to you areas of sin or weakness that you need to turn from. Admit and confess to Him your failures, and seek His forgiveness so that your fellowship with Him is sweet and uninterupted.
Moment by moment seeking to know Christ, to obey, and to serve Him keeps you right where you need to be–close to Jesus. And when you're close to Him, you'll be ready for graduation anytime He starts the ceremony!
PRAYER: Dear God, thank You for the hope of one day moving from this life to Heaven with You. Until then, help me live each day aware of my coming graduation.
WORDS TO PONDER: "It is not simply that He has gone to prepare a place for us but that His death and resurrection have made it possible for us to be there with Him forever. That is the glorious gift of the Gospel."
– Sheila Walsh, Author and Speaker
By Ann Shorb
© Ann Shorb 2015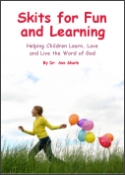 Skits for Fun and Learning
Skits for Fun and Learning is a collection of 15 puppet scripts and 5 articles on the subject of success with puppet ministries. The articles and scripts have been written by Dr. Ann Shorb and the book is available for purchase as a paperback, or as a PDF download.