PHILIPPIANS 4:12 (NKJV)
I have learned in whatever state I am, to be content: I know how to be abased, and I know how to abound. Everywhere and in all things I have learned both to be full and to be hungry, both to abound and to suffer need.
Last week it seemed that nothing could go wrong. There were special times with friends, and neighbors seemed extra friendly. A financial need was met, and a project I've been working on for months came together beautifully. Piece by piece things fell into place, and obstacles that previously hindered progress seemed to melt away. It was unbelievable! It seemed that God was working everywhere I turned.
This week it seemed that nothing could go right! A terrible storm swept through town, our phone system went haywire, car problems grew worse, several big bills came due, and a host of ants decided they wanted to move in with me! Where was God in the middle of all this?
As I look back on both weeks, several things become very clear. First, both weeks contained good and bad times. Life is never all good or all bad.
Second, when blessings were abundant, that's what I focused on and I just didn't notice what wasn't going right. This week, when trouble seemed to dominate, that got my attention. I choose where I place my focus, and that determines my attitude.
Third, God never abandoned me. He didn't go on vacation, or step out for a cup of coffee. Yes, this week had its problems, but God was still where He always is, on His throne in Heaven yet still by my side tending to the details of my life. He was there when I called on Him. He always is.
So I've been reminded once again that I can choose to be miserable and fret about what's going wrong, or I can find contentment by choosing to be aware of His blessings and be anchored in His love. It all comes down to a choice—my choice!
PRAYER: Lord Jesus, please remind me when I forget that there are always blessings, no matter how many trials come my way, and that with You there is always hope and contentment.
WORDS TO PONDER: "Contentment is not a destination but a journey. Rather than becoming discontented and looking for a better situation, I pray I will focus on what You have given me. May I see my cup as running over with Your blessings."
–Light for My Path Prayers and Promises, Published by Humble Creek
READ REALATED DEVOTIONAL:
God Is Great and He is Good
By Ann Shorb
Copyright Ann Shorb, 2015
Scripture taken from the New King James Version. Copyright © 1982 by Thomas Nelson, Inc.  Used by permission.  All rights reserved.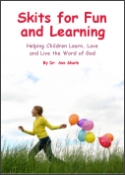 Skits for Fun and Learning
Skits for Fun and Learning is a collection of 15 puppet scripts and 5 articles on the subject of success with puppet ministries. The articles and scripts have been written by Dr. Ann Shorb and the book is available for purchase as a paperback, or as a PDF download.