This week's devotional is written by Jane S. Hull, Administrative Assistant at Christian Counseling & Educational Services.

Psalm 119:18
Open my eyes, that I may behold wonderful things from Thy law. (NAS)
It was a sunny, crisp spring morning as she stepped out the back door with multiple tasks circling her thoughts – the items to be purchased at the store, the people to call, work waiting to be accomplished. And then, she stopped because just breaking through the ground . . . there they were.
He gave them to her for her birthday many years ago, but she still remembers that precious moment. It was spring, and he knew that she really loved flowers. And it really WAS spring, not only in season, but in their relationship, and in their lives.
So much had happened in the years since she planted them! After he passed away, the emptiness was deafening, but she knew that no matter how hard it would be, she must go forward with life. It is what God wants everyone to do. But for the moment, a lifetime of memories returned. The fun and laughter, the good and the bad — seeing the flowers brought them all back.
Perhaps you are like this lady–going forward, or trying to, and then, there are the "flowers," that bring back your grief. Probably all of us have had this kind of moment. The names, the situations and the "flowers" are all different, but the response is the same.
In the Psalms, God used David, a man who understood some things about going forward, to write these words:
My soul cleaves to the dust; revive me according to Thy Word. (Psalm 119:25 NAS)

My soul weeps because of grief; strengthen me according to Thy Word. (Psalm 119:28 NAS)

This is my comfort in my affliction, that Thy Word has revived me. (Psalm 119:50 NAS)
In your moments of sorrow, come, collapse in His presence, stop and fall at His feet, and listen to the words that your Heavenly Father wants to use to revive, strengthen, and comfort you.
Heavenly Father, may Your presence and Your Word completely surround us today as we go forward.
Scripture taken from the New American Standard Bible. Copyright 1979 by Thomas Nelson, Inc. Used by permission. All rights reserved.
Copyright Ann Shorb, 2008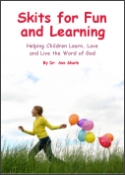 Skits for Fun and Learning
Skits for Fun and Learning is a collection of 15 puppet scripts and 5 articles on the subject of success with puppet ministries. The articles and scripts have been written by Dr. Ann Shorb and the book is available for purchase as a paperback, or as a PDF download.