PSALM 119:14 (NKJV)
I have rejoiced in the way of Your testimonies,
As much as in all riches.
Take a look at Psalm 119:9-16 and you'll notice that the writer begins with a question about purity, and immediately answers it. He then goes on to make a statement about his own past, and ends those lines with a prayer for the future.
How can a young man cleanse his way? (Question)
By taking heed according to Your word. (Answer)
With my whole heart I have sought You; (Statement about his past)
Oh, let me not wander from Your commandments! (Prayer for his future)
As you read through these and the next few verses of that passage, you quickly discover that the young man finds the key to having real joy in life lies in seeking, knowing, understanding, and living according God's word. It's the way of purity–the way of good clean living. And the results of living according to God's law gives the young man as much joy as having all the wealth in the world!
That joy is something he obviously doesn't want to give up because the man then makes a bold commitment to keep God's word and His ways as the primary focus of his heart and mind. He declares:
I will meditate on Your precepts,
And contemplate Your ways.
I will delight myself in Your statutes;
I will not forget Your word.
What a beautiful lesson for us! If we intentionally and fervently make seeking, knowing, understanding, and actually living according to God's word and ways our primary focus, we too can experience His joy and peace. Who would want to live any other way?
PRAYER: Lord, help me focus on You and Your ways. Keep me from the distractions of self and of the world so that I may know the joy of walking the path of good, clean living and honor You.
WORDS TO PONDER:
"This is the secret of joy. We shall no longer strive for our own way, but commit ourselves, easily and simply, to God's way, acquiesce in His will, and in so doing find our peace."
–Evelyn Underhill
RELATED DEVOTIONALS:
By Ann Shorb
©Copyright, Ann Shorb, 2016
Scripture taken from the New King James Version. Copyright © 1982 by Thomas Nelson, Inc.  Used by permission.  All rights reserved.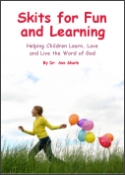 Skits for Fun and Learning
Skits for Fun and Learning is a collection of 15 puppet scripts and 5 articles on the subject of success with puppet ministries. The articles and scripts have been written by Dr. Ann Shorb and the book is available for purchase as a paperback, or as a PDF download.