PSALM 119:130 (NKJV)
The entrance of Your words gives light;
It gives understanding to the simple.
Psalm 119 is one of my favorite passages of scripture. It contains 22 stanzas, one for each letter of the Hebrew alphabet, and each stanza has thoughts that have been divided into eight verses. The theme of all 176 verses is that keeping God's ways brings freedom. The entire passage looks at the contrast between those who meditate on, obey, and delight in God's word and the wicked who shun His ways and live in fear, regret, and sorrow.
As is typical in the Psalms, the writer here uses numerous terms to refer to God's word. In this psalm alone it is referred to as judgments, statutes, precepts, testimonies, commandments, law, ways, and the way of truth. Each time it is mentioned, the psalmist expresses an attitude of respect toward God's way. He sees it as something wonderful, helpful, and life giving that is to be treasured, loved, and longed for. Repeatedly, he cries out, "Revive me" with Your word and ways! He's asking God to make him alive, energized, and strengthened for godly living and the peace and blessing that come with it. And throughout this psalm, the author also commits himself to living by all God's precepts for his entire life!
One of the most beautiful things found in this psalm is that God's word is available to ALL who seek Him. He makes it clear and understandable even to those who are simple minded. In Psalm 119:30 (see above) the word "simple" doesn't refer to being stupid or unintelligent, but rather speaks of one who is childlike (innocent), lacking in experience, or who has never been taught. So to everyone who seeks Him, God's word gives the light of direction and guidance, comfort and peace, joy and blessing regardless of his/her age, experience, or education. By committing ourselves to actually live in that light, we can know freedom from the bondage of fear, regret, sorrow, suffering, and shame! Now that's real liberty!
PRAYER: Loving Father, how You bless us when we hear Your word and follow Your ways! Thank You for the security that comes in doing that.
WORDS TO PONDER:
"Your word is a lamp to my feet
And a light to my path."
–Psalm 119:105
RELATED DEVOTIONALS:
God's Ways Bring Freedom
By Ann Shorb
©Copyright, Ann Shorb, 2016
Scripture taken from the New King James Version. Copyright © 1982 by Thomas Nelson, Inc.  Used by permission.  All rights reserved.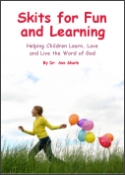 Skits for Fun and Learning
Skits for Fun and Learning is a collection of 15 puppet scripts and 5 articles on the subject of success with puppet ministries. The articles and scripts have been written by Dr. Ann Shorb and the book is available for purchase as a paperback, or as a PDF download.