Psalm 19:10-11 (KJV)
More to be desired are they than gold, yea, than much fine god: sweeter also than honey and the honeycomb. Moreover by them is thy servant warned: and in keeping of them there is great reward.
Why is it that we cringe when we hear the phrase "living by the law?" For many of us, it sounds legalistic and rigid, like we must give up all pleasure and live by some stiff rule. Yet when we look into the Psalms we see that rather than being confining, living by God's standard brings freedom and joy.
The writers of the Psalms used a variety of terms to refer to the law, God's standard. Sometimes it is spoken of as "the testimony of the Lord," the "statues of the Lord," or the "commandments of the Lord." Other times it is referred to as "word of the Lord," the "precepts of the Lord" or the "way of the Lord". Whatever term is used, the law provides us with true and righteous guidelines to live by, and in following them there is great peace and freedom.
The psalmists show their respect for, delight in, and dependence on God's law with such phrases as: Blessed are the undefiled in the way, who walk in the law of the Lord (Psalm 119:1). Thy statues have been my songs in the house of my pilgrimage (Psalm 119:11). Unless thy law had been my delights, I should then have perished in mine affliction (Psalm 119:92). O how love I thy law! It is my meditation all the day (Psalm 119:97) Thy word is a lamp unto my feet, and a light unto my path (Psalm 119:105). And these weren't super saints. They were just ordinary men.
The New Testament tells us that the law was given to show us our own fallibility and bring us to Christ who is our salvation and strength; but accepting His grace should not cause us to live recklessly and sinfully. Rather it should motivate us to follow God's standard for moral purity and righteousness even more. One thing I've learned in life is that doing things God's way works! It allows you to live free of regret, guilt, poor relationships, certain diseases, and constant anxiety and worry. Ravi Zacharias, author of The Grand Weaver, says God's rules "serve not to restrain us but to be the means for us to soar with the purpose for which He has designed all choices."
Prayer: Lord, help me to daily make the conscious choice to live according to Your word and Your way. Rather than running from Your standards, let me run to them and therein find peace, hope, joy, and freedom.
Words to Ponder: Billy Graham once said he read five psalms every day — "that teaches me how to get along with God," followed by a chapter of Proverbs, which "teaches me how to get along with my fellow man."
By Ann Shorb
Copyright 2007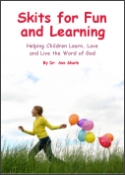 Skits for Fun and Learning
Skits for Fun and Learning is a collection of 15 puppet scripts and 5 articles on the subject of success with puppet ministries. The articles and scripts have been written by Dr. Ann Shorb and the book is available for purchase as a paperback, or as a PDF download.