ROMANS 8:35, 38 (NKJV)
Who shall separate us from the love of Christ? Shall tribulation, or distress, or persecution, or famine, or nakedness, or peril, or sword? . . . I am persuaded that neither death nor life, nor angels nor principalities nor powers, nor things present nor things to come, 39 nor height nor depth, nor any other created thing, shall be able to separate us from the love of God which is in Christ Jesus our Lord.
This devotional is a follow-up to Uprooting Worry.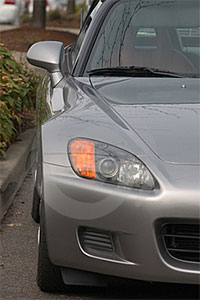 Two weeks ago, it seemed like everything went wrong. The phone system at my office, my dishwasher, and a broken tooth needing extensive repair all gave me cause to worry. The final straw, however, was hearing that the engine in my car is shot and I either needed to spend up to $9,000 replacing it or buy another vehicle. So while my first inclination was to worry, I realized I had a choice. I could sit and fret about all these things, or I could turn my focus toward the Lord and His great faithfulness. Remembering all He's done for me in the past and clinging to His promises replaced worry and fear with hope and peace. Instead of wondering, "WILL God take care of me?" my thoughts became, "HOW will He take care of me?" In this case, He used a lot of loving people to come to my rescue.
My faithful office assistant, another treasured friend, and the handyman who helps us out, all provided transportation in those first few days when I was without a vehicle. My dear son came along to look at cars, talk to dealers, do some research, and help me weigh my options. Meanwhile, besides all of these who actively stepped into the picture, a number of other friends prayed earnestly for my situation. Then a wonderful couple stepped in to do what the rest of us couldn't—repair my car! So now I don't need a new engine or a new car. Wow! What a relief!
If that weren't enough, a young couple I haven't seen in over a year stopped in for a visit. He just happens to be a plumber and an appliance installer. So when I get ready to replace my dishwasher, there's extra help and a discount waiting there.
At the end of that week, the technician came and only had to spend half an hour getting our office telephones in good working order. And I have my appointments scheduled to repair my tooth.
All of the things that seemed so overwhelming two weeks ago have come under control. I wish I could say that all of my problems are taken care of that miraculously. They aren't, but none the less, I know that God's great love will provide a way to deal with each one of them as I patiently wait on Him.
As God's beloved children, we are surrounded by and wrapped up in His amazing love. There is no thing, no person, no circumstance that can truly harm us. We can be sure that in every situation He is truly Jehovah-Shammah, "The Lord is There". (Ezekiel 48:35) Nothing can separate us from His great love!
PRAYER: You, Father, are Almighty God, Ruler of the Universe, and Master of All Things. Yet in all of that greatness, You are Loving Father, Tender Shepherd, and Keeper of My Soul, whose love and care never ceases to amaze me and goes far beyond all imagination!
WORDS TO PONDER:
"Sometimes the clouds of trouble bedim the sky above,
I cannot see my Savior's face, I doubt His wondrous love;
But He, from heaven's mercy seat, beholding my despair,
In pity bursts the clouds between, and shows me He is there.
It's just like Jesus to roll the clouds away,
it's just like Jesus to keep me day by day,
it's just like Jesus all along the way,
It's just like His great love."
–Edna Randolph Worrell, circa 1873, "It's Just Like His Great Love"
By Ann Shorb
© Ann Shorb, 2014
Scripture taken from the New King James Version. Copyright © 1982 by Thomas Nelson, Inc.  Used by permission.  All rights reserved.
Photo copyright James Hearn.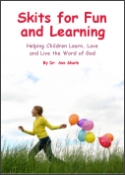 Skits for Fun and Learning
Skits for Fun and Learning is a collection of 15 puppet scripts and 5 articles on the subject of success with puppet ministries. The articles and scripts have been written by Dr. Ann Shorb and the book is available for purchase as a paperback, or as a PDF download.