I Timothy4:8
Godliness is profitable for all things, having promise of the life that now is and of that which is to come.
Godliness means doing things God's way; living a godly life simply means to live rightly.  It's really not that hard and it's definitely not complicated. I just determine in in my heart and mind that I will do what I know to be right. How can you know what's right? Read the Word of God. It gives me clear direction concerning my attitudes, my actions and my appearance.
In this life, if I live rightly I save myself and others a lot of heartache and grief. I avoid deceit, hatred, maliciousness, worry, envy, and strife.  As a result, I don't get entangled in the web of confusion, heartache and negative consequences. Instead I live with a clean conscience, gain the respect of others, and feel good about myself. Most importantly, I honor and glorify my heavenly Father.
But that's not all. Doing right today means that I'm laying up rewards in Heaven that will be mine to enjoy for all eternity. What an incredible thought—living godly, living rightly means I profit in this life and the next! "Do right because it's right." I can do that!
Help me, Dear Lord, each day to make godly choices so that I live according to Your Word and bring glory and honor to Your name. Bless me with the joy of pure living in this life, and the rewards of Heaven in the next.
By Ann Shorb
©Copyright Ann Shorb, 2009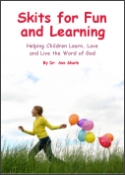 Skits for Fun and Learning
Skits for Fun and Learning is a collection of 15 puppet scripts and 5 articles on the subject of success with puppet ministries. The articles and scripts have been written by Dr. Ann Shorb and the book is available for purchase as a paperback, or as a PDF download.