Romans 8:31
What shall we then say to these things? If God be for us, who can be against us?
Many years ago while I was driving around town doing errands, well-known Bible teacher and author, Dr. Warren Wiersbe was on the radio. He was presenting a lesson on discouragement from Romans chapter eight that I've never forgotten.
His entire message was encouraging, but here's one nugget that I've shared with many people. Whenever the clouds of discouragement hang over you, pick up your Bible and read the words of the apostle Paul in Romans 8. Pay particular attention to verses 31-39, and the many times he uses the phrase "for us."
What shall we then say to these things? If God be for us, who can be against us?
He that spared not his own Son, but delivered him up for us all, how shall he not with him also freely give us all things?
Who shall lay anything to the charge of God's elect? It is God who justifieth.
Who is he that condemneth? It is Christ that died, yea rather, that is risen again, who is even at the right hand of God, who also maketh intercession for us.
Who shall separate us from the love of Christ? Shall tribulation, or distress, or persecution, or famine, or nakedness, or peril, or sword?
As it is written, For thy sake we are killed all the day long; we are accounted as sheep for the slaughter.
Nay, in all these things we are more than conquerors through him that loved us.
For I am persuaded, that neither death, nor life, nor angels, nor principalities, nor powers, nor things present, nor things to come, nor height, nor depth, nor any other creature, shall be able to separate us from the love of God which is in Christ Jesus our Lord.
As you focus on the thought, "If God be for us, who can be against us?" rephrase it and make it personal. Remind yourself, "GOD IS FOR ME!" Say it to yourself four times emphasizing a different word each time: God is for me! God is for me! God is for me! God is for me! You can even substitute your own name for the word "me" and read it through again and again. Meditate on this truth and carry it with you from morning till night. In fact, why not print it on a card and stick it on your mirror, windowsill, refrigerator or computer–anywhere you'll see it often? Read it and rejoice! Let it remind you of songs about God's love like the one I've printed below, and turn that sadness into gladness.
Almighty God, when discouragement settles around me, please replace my depressing thoughts with strength, hope and joy as I recall that Your love is so strong that it will never let me go, and that You are always working on my behalf.
By Ann Shorb
Copyright Ann Shorb 2007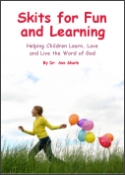 Skits for Fun and Learning
Skits for Fun and Learning is a collection of 15 puppet scripts and 5 articles on the subject of success with puppet ministries. The articles and scripts have been written by Dr. Ann Shorb and the book is available for purchase as a paperback, or as a PDF download.