PSALM 50:23 (NKJV)
Whoever offers praise glorifies Me;
And to him who orders his conduct aright
I will show the salvation of God."
Much of the time, I find that we make Christian living a lot more complex than God intended it to be. For example, we know that we were created to glorify God, but we often fumble and falter wondering, How do I do that? Do I read my Bible more? Sing more hymns? (And do choruses count or must it strictly be the old hymns?) Should I pray more? Witness more often? Eat certain foods? Wear certain clothing? Smile more? Or should I actually smile less because Christians are to be sober minded? What? How? When do I glorify God?
In His Word, God tells us, "Whoever offers praise glorifies Me." It's that simple! Giving praise to God for His blessings, His goodness, His character, His provision, His promises . . . is the way to glorify Him and to fulfill the purpose for which we were created.
1 Corinthians 6:20 tells us, "For you were bought at a price; therefore glorify God in your body and in your spirit, which are God's."
1 Peter 2:9 reminds us, "But you are a chosen generation, a royal priesthood, a holy nation, His own special people, that you may proclaim the praises of Him who called you out of darkness into His marvelous light."
Hebrews 13:15 challenges us, "Therefore by Him let us continually offer the sacrifice of praise to God, that is, the fruit of our lips, giving thanks to His name."
There's no doubt about it, we are to praise God with our body, soul, and spirit. Truly, it should become a way of life and we should live daily with an attitude of praise and thanksgiving to our blessed Creator.
To help develop this type of mindset, consider keeping a Praise Journal. Every day, record at least three things for which to praise God. Little things, big things—it doesn't matter. Find the blessings that He sprinkles throughout your day. On the day when nothing is going right or your heart is breaking, read what you've previously written. Looking through the lens of past praise will ignite your ability to see God's goodness and the greatness of His character even in the darkest moments of life.
As you become more and more accustomed to focusing on the positives each day, you'll find facing the reality of living in a fallen world is actually less stressful. It provides strength for your physical body, clarity of mind, and freshness of spirit.
So I extend this invitation to you, my friend . . . "Oh, magnify the Lord with me, And let us exalt His name together," (Psalm 34:3, NKJV). Let's praise the Lord– today!
Great and Mighty God, I praise You for the joy of walking in the light of Your love and blessing each day. Grant me eyes that see Your goodness in every situation, and lips that sing Your praises always.
By Ann Shorb
Read the previous devotional, "Why Were We Created"
From our website you can print a copy of this thought for use in your Bible class or for your personal study. Download Why Were We Created? as a PDF.
Copyright Ann Shorb, 2012
Scripture taken from the New King James Version. Copyright © 1982 by Thomas Nelson, Inc.  Used by permission.  All rights reserved.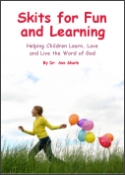 Skits for Fun and Learning
Skits for Fun and Learning is a collection of 15 puppet scripts and 5 articles on the subject of success with puppet ministries. The articles and scripts have been written by Dr. Ann Shorb and the book is available for purchase as a paperback, or as a PDF download.