PSALM 50:15 (NKJV)
Call upon Me in the day of trouble;
I will deliver you, and you shall glorify Me.
2 CORINTHIANS 1:8-10 (NKJV)
For we do not want you to be ignorant, brethren, of our trouble which came to us in Asia: that we were burdened beyond measure, above strength, so that we despaired even of life. Yes, we had the sentence of death in ourselves, that we should not trust in ourselves but in God who raises the dead, who delivered us from so great a death, and does deliver us; in whom we trust that He will still deliver us . . .
Many times young Christians are led to believe that now that they belong to Christ they will no longer have problems and heartache. Nothing could be farther from the truth! Tragedy comes to every living human being, and Christians are not exempt.
Tragedy may be the very thing that God uses to get our attention and bring us to repentance when we're living in sin. In contrast, God may allow disaster to fall on a totally dedicated saint who will exhibit His grace and faithfulness even through intense suffering. At other times, calamity is God's tool to teach us lessons we would never learn in any other way. So whether it comes as a deterrent to sin, a demonstration of God's power to sustain us, or as a dynamic educational tool, we should not fear nor run from suffering. Tragedy opens the door for God to work in ways that only He can, and becomes an avenue for the world to see Him, His glory, His power and His might against the backdrop of life's most intense moments.
The words of Psalm 50:15 were written to people experiencing intense and unwanted suffering. In their great sorrow and pain, God gave the promise, "Call upon Me in the day of trouble; I will deliver you, and you shall glorify Me." That promise is still good today. In your hour of great need, call to Him. Allow Him to work His miracles in your life, and let His glory shine through you.
Almighty Father, glorifying You when things are good is easy. Help me be a faithful instrument though which Your glory can be seen even in the hard times.
By Ann Shorb
Read the previous devotional, "Glorify God"
Copyright Ann Shorb, 2012
Scripture taken from the New King James Version. Copyright © 1982 by Thomas Nelson, Inc.  Used by permission.  All rights reserved.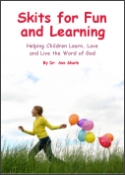 Skits for Fun and Learning
Skits for Fun and Learning is a collection of 15 puppet scripts and 5 articles on the subject of success with puppet ministries. The articles and scripts have been written by Dr. Ann Shorb and the book is available for purchase as a paperback, or as a PDF download.