PSALM 92:1-2 (NKJV)
It is good to give thanks to the Lord,
And to sing praises to Your name, O Most High;
To declare Your lovingkindness in the morning,
And Your faithfulness every night,
In the difficult economy we are experiencing right now, most people are looking for a way to make more money, so the sign outside the church near my home is grabbing a lot of attention. It says, "Get rich quick—Count your blessings!" It doesn't tell you how to make more money, but it certainly reminds you where your true riches lie.
When I want to count my treasures, I just need to stop and look around me and right away I see blessing after blessing. It's easiest to start with the things I can see and touch so I start counting material things and the blessings of nature that surround me.
Then I move on to my relational blessings. What a rich treasure I have in my family and friends! One by one I name them and I picture their faces. And while I'm thanking God for them, I also say a prayer for them.
Next I focus on spiritual blessings. These are the things I cannot see or touch but they are such a big part of my life–my salvation, God's indwelling Holy Spirit, the Bible and the ability to ready it, the privilege of prayer, and the promises of God are just some of my spiritual blessings. Peace that the world can't give, joy in the moment, hope for the future add to my treasure.
Realistically, counting your blessings won't actually make you rich, but it will help you see how very rich you already are. I count my blessings every day and every night, and my blessing account keeps growing. To those who love God, He pays big dividends and multiplies the profits.
Here's an exercise to try when you are able: Set the alarm on your watch or cell phone to ring every hour. When the alarm goes off, stop what you are doing, look at your surroundings, and notice the blessings right where you are. Practice seeing God's goodness no matter where you are and you'll never be short on praise!
PRAYER: Lord, You give us such abundant blessings that we could never truly number them all. Open our eyes to see the riches You pour on us every moment of every day.
WORDS TO PONDER:
When you look at others with their lands and gold,
Think that Christ has promised you His wealth untold;
Count your many blessings. Wealth can never buy
Your reward in heaven, nor your home on high.
–Johnson Oatman, Jr., 1856-1922, Count Your Blessings
RELATED DEVOTIONALS AND HYMNS:
By Ann Shorb
Copyright Ann Shorb, 2014
Scripture taken from the New King James Version. Copyright © 1982 by Thomas Nelson, Inc.  Used by permission.  All rights reserved.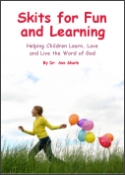 Skits for Fun and Learning
Skits for Fun and Learning is a collection of 15 puppet scripts and 5 articles on the subject of success with puppet ministries. The articles and scripts have been written by Dr. Ann Shorb and the book is available for purchase as a paperback, or as a PDF download.