PROVERBS 27:9 (NKJV)
Ointment and perfume delight the heart,
And the sweetness of a man's friend gives delight by hearty counsel.
Last evening I was counting my blessings, when I suddenly I realized I was actually naming off people! As I look back over the years, the number of people who have touched, encouraged, and blessed me seems endless. Most of them have been friends for a very long time, but some were a part of my journey for only a short while. Still others I'm just getting to know, yet each one is a precious gem in his/her own way, and a special gift from God.
With some friends I laugh and have fun, with others I study and learn. Some join me in serving the Lord in ministry, or working on a special project. Then there are those few that are always there to help and support in time of need, to give a word of comfort after a long weary day, or to counsel and advise me when I'm too nearsighted to find my way home. Each one contributes something different to my life and makes it richer and fuller.
Yes, one of the richest treasures God has given me is my friends, and the value of what each one brings to my life cannot be measured. How thankful I am for His goodness! How pleasant and sweet is this gift of friendship!
PRAYER: Heavenly Father, thank You for the gift of friendship and the richness each one of these gems gives to my life and my well being. Help me to be a true friend to others and bless them in turn.
WORDS TO PONDER: "A good friend, like an old quilt, is both a treasure and a comfort."
–Unknown
RELATED DEVOTIONAL: A Friend in Need
By Ann Shorb
©Copyright, Ann Shorb, 2016
Scripture taken from the New King James Version. Copyright © 1982 by Thomas Nelson, Inc.  Used by permission.  All rights reserved.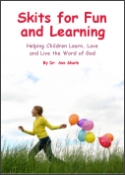 Skits for Fun and Learning
Skits for Fun and Learning is a collection of 15 puppet scripts and 5 articles on the subject of success with puppet ministries. The articles and scripts have been written by Dr. Ann Shorb and the book is available for purchase as a paperback, or as a PDF download.