JOHN 11:41
Jesus lifted up His eyes and said, "Father, I thank You that You have heard Me."
It was just one of those days when I was dragging.  Heat and humidity?  Physical exhaustion?  Stress?  I'm not sure what brought it on, but my energy level was low. Two of my co-workers greeted me when I arrived at the office and we chatted a moment, then I plopped into a chair and said, "I think you're going to have to wind me up to get me going this morning."
Jane, our administrative assistant, smiled and said, "Rather than wind you up, I'd like to lift you up."  And she did.  She prayed lifting my need before our Heavenly Father, asking Him to be my strength and hope that day.  Our staff prays together every day before we begin our work, so this was nothing unusual, but I can't tell you how refreshing and encouraging it was on that particular day.
Lifting up someone always starts with an upward look, moving our eyes from our circumstances and surroundings to our loving Heavenly Father, recognizing that He alone has all we need for every need.  Psalm 121:1 gives us a great picture of this:
"I will lift up my eyes to the hills—
From whence comes my help?
My help comes from the LORD,
Who made heaven and earth."
When was the last time you helped a friend by lifting him/her to the Lord in prayer, praying for specific needs and trusting God to truly meet those needs?  That's a great gift to give a friend, but the other half of that blessing is to let your friend know you are standing beside him/her.  Send a card, email, text or verbal word just to say, "Friend, I'm lifting you up!"
Heavenly Father, You have blessed me abundantly with friends who care.  Thank You for the privilege of helping one another as we fix our gaze on You.
By Ann Shorb
©Copyright Ann Shorb, 2010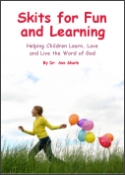 Skits for Fun and Learning
Skits for Fun and Learning is a collection of 15 puppet scripts and 5 articles on the subject of success with puppet ministries. The articles and scripts have been written by Dr. Ann Shorb and the book is available for purchase as a paperback, or as a PDF download.