By Heather Anne Kehr
2 Chronicles 7:14
If my people, who are called by my name, will humble themselves and pray and seek My face and turn from their wicked ways, then will I hear from heaven and will forgive their sin and will heal their land. *(NIV)
Recently week I had the privilege of planting 10 tomato plants, 5 different varieties of pepper plants, sweet basil, and also doing some general watering of other plants and flowers. The days are beautiful, and I have to admit that I love a project when I'm outside. Especially if it doesn't involve weed whacking or weed pulling . . . let's just say I hate weeds!
After planting in the garden, which was extremely tough to dig, at least for my little muscles, I was pleased with the work that was accomplished. I started up the John Deere Gator, careful not to drive over the plants I just put in. I was also careful to make sure the bed was secure before driving off–only to discover that I ran over something as I backed up! It was our tomato cages! The ground was too tough for me to put them in, so I was waiting for my husband to help. Now they were completely smashed beyond repair.
I've learned throughout my life to admit to my mistakes, so I drove up to Ken and told him what I did. His calm reply was "That wasn't too good." To which I agreed and said, "At least I admitted to it. That is something, right?" His phlegmatic response was, "Yeah, that's good for something." Still we have only one tomato cage which is barely in the ground because I quit trying to force it in, but it saved that cage from destruction.
I paused to think. How often have I crushed someone's spirit? Broken his dream? Damaged her self worth? What choices do I make that "run over" others with my carelessness?
I am thankful that even though I make mistakes, I have a patient husband, a forgiving Lord, and a second chance. Sometimes things I do can't be repaired or fixed and they must be started over. It is then that I must humble myself and admit to my wrong doing, seek forgiveness, and move ahead without condemning myself. Jesus Christ is the One that forgives all my sins, my shortcomings, my failures, and He loves me all the while. He still has great plans for my life, even when I mess up.
Heavenly Father, please forgive me for the careless things I say or do. Lord, I desire to honor You with all my words and actions. I ask that You would work through me to encourage and challenge others. Thank You for all that You have done and all that You will do. In the name of Jesus Christ, Amen.
©Copyright Heather Anne Kehr, 2008
*Scripture taken from The HOLY BIBLE, NEW INTERNATIONAL VERSION ®. Copyright © 1973, 1978, 1984 by the International Bible Society. Used by permission of Zondervan. All rights reserved.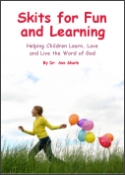 Skits for Fun and Learning
Skits for Fun and Learning is a collection of 15 puppet scripts and 5 articles on the subject of success with puppet ministries. The articles and scripts have been written by Dr. Ann Shorb and the book is available for purchase as a paperback, or as a PDF download.