PSALM 126:3 (NKJV)
The Lord has done great things for us,
And we are glad.
In a quiet and weary tone, I heard a hurting voice say, "Another day, another trial," and I thought to myself, "What a dreary and defeated way to live!" Then I stopped to take a good look at what is happening in this person's life right now, and it's obvious that he's going through one of the most difficult times he has ever known. We all face those times, and there are days when it seems that nothing is going right—or ever will again.
In her book UNRAVELING, Elisabeth Klein Corcoran writes with great transparency about how she faced her hardest struggles. She says, "I have read pretty much every book on how to get through a trial, and I have about a zillion big and little tips on how to navigate the dark and difficult waters of this life. But nothing, and I mean nothing, has worked for my heart like this ridiculously basic practice of reciting all that's good in my life."
When we pause to examine our situation, there are always things for which we can be thankful. Simple and seemingly menial things like the fact that the mail came on time today can be the stimulus for recognizing other blessings around us. Focusing on and naming the positives produces in us an attitude of humility and gratitude because we begin to see how much we have even though we've done nothing to merit these blessings.
In addition, we become increasingly aware that God is not finished with us yet. He is at work in our lives, even in ways we often don't see or fail to take notice of. This motivates us to put one foot in front of the other and keep going because He is by our side.
Start writing down the positives you think of. Keep a running list so that when things do seem overwhelming, you can go back to it and refresh your memory. Read your list out loud and literally thank God for the blessings He sends your way. It's a great way to chase away the clouds of depression and despair, and to get out of the rut of negativity.
Prayer: Heavenly Father, You are the giver of all blessings. Help me open my eyes and see what You do for me in big and small ways, even on my darkest days.
Related Devotional:
Counting My Blessings
By Ann Shorb
Copyright Ann Shorb, 2013
Scripture taken from the New King James Version. Copyright © 1982 by Thomas Nelson, Inc.  Used by permission.  All rights reserved.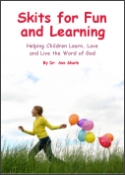 Skits for Fun and Learning
Skits for Fun and Learning is a collection of 15 puppet scripts and 5 articles on the subject of success with puppet ministries. The articles and scripts have been written by Dr. Ann Shorb and the book is available for purchase as a paperback, or as a PDF download.