PSALM 100: 1, 2, 4 (NKJV)
Make a joyful shout to the LORD all you lands! . . . Come before His presence with singing . . . Enter into His gates with thanksgiving, and into His courts with praise. Be thankful to Him, and bless His name.
Genesis 29 tells an interesting story about the lives of Jacob and his two wives, Leah and Rachel. Leah lived in disappointment as a result of her father tricking Jacob and giving her to him as a wife when Jacob thought he was marrying his beloved Rachel. Poor Leah!  While Jacob seems to have treated her well, he never really loved her as he loved Rachel; but God saw Leah's plight and blessed her with children while her sister Rachel was barren.
When her first son was born, Leah rejoiced in God's blessing and said, "Now therefore, my husband will love me." Obviously that didn't change things for Leah because when the second son was born she recognized this gift as another blessing from God to make her husband love her. When the third son arrived Leah declared, "Now this time my husband will become attached to me, because I have borne him three sons." Later a fourth son was born and Leah's focus changed. This time, instead of focusing on the love she longed for, Leah announced, "Now I will praise the LORD."  And she named that son Judah which means "praise".
For years Leah longed for something that she never received. It wasn't wrong for Leah to want to be loved, especially by her spouse, but as long as she made that her primary focus, I'll guarantee you that she was disappointed and hurt. It is only when you take your eyes off of what you don't have and start praising the Lord for Who He is and for the blessings that He bestows that you begin to find peace and contentment. Truly only He can fill the empty spots in your heart when the very thing you long for is out of reach.  Only His love can heal your hurts.  Praise Him.  Simply praise Him.
Beloved Father, I praise You for caring when my heart is hurt, lonely or disappointed, and for seeing and knowing all of my needs. I praise You for Your love, Your provisions, and Your greatness. Today and always may my lips bless Your name.
By Ann Shorb
©Copyright Ann Shorb, 2010
Scripture taken from the New King James Version. Copyright © 1982 by Thomas Nelson, Inc.  Used by permission.  All rights reserved.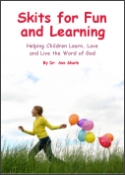 Skits for Fun and Learning
Skits for Fun and Learning is a collection of 15 puppet scripts and 5 articles on the subject of success with puppet ministries. The articles and scripts have been written by Dr. Ann Shorb and the book is available for purchase as a paperback, or as a PDF download.