MICAH 7:18
Who is a God like unto Thee, that pardoneth iniquity, and passeth by the transgression of the remnant of His heritage?  He retaineth not his anger forever, because He delighteth in mercy.
The tiny book of Micah in the Old Testament relates the prophet's awesome message to the children of Israel.  While the first three chapters of the book pronounce judgment on God's people who have grown cold to His ways, chapters four, five, six and seven are full of hope and beauty, revealing the way that God will rescue His beloved and bring glory to Himself.  Tucked into these pages is an exciting glimpse of God's tough and tender sides.  Like the contrast between denim and lace, we see God's stern discipline toward His children and also His delicate love and mercy.
God's people were living in crisis because of the consequences of their own sinful choices.  Many times that's the cause of a crisis.  You know the feeling "I got myself into this mess; now how do I get myself out?"  At other times suffering comes as the result of someone else's poor choices or sinful behavior. Or perhaps a crisis is no one's fault, but it's due to a physical illness or some sort of natural disaster.  Interestingly, no matter what the cause of a crisis, the way to victory is always the same, and it's always available to those who seek it:

Accept your situation for what it really is.  Don't try to minimize or deny it.  Honestly tell yourself and God just what you are going through (Micah 1:8-16; 7:1-7).

Adjust your perspective.  Instead of sitting in the pit of fear, despair, hurt or anxiety focusing on all the negatives and overwhelming stress and danger in your situation, focus on God as your only Deliverer.  (Micah 4:9-10).
Acknowledge your weakness and helplessness.  Stop depending on your own efforts or those of other people to solve your problems.  Israel suffered because of her rebellion against God's ways, but He had a plan to rescue His people . . . and He had the power to actually perform that plan!  He is greater than your crisis (Micah 4:1-10).

Ask for forgiveness for any known sinful thoughts, attitudes or behaviors on your part.  Humble yourself before God and repent of any and all wrong doing on your part (Micah 6:8).
Actively seek to do things His way.  Study the Word and/or get counsel from mature believers to know how to do right in this situation (Micah 6:8).
Avoid the tendency to worry over what will happen.  Remind yourself of His promises, and be assured that He will work out all the details for your good and for His glory (Micah 4:10-13).
Abundantly praise and worship God for His love and mercy.  Putting your energy into glorifying God takes the focus off of you and your crisis and puts it on the One who is worthy of praise (Micah 7:18-20).
Prayer: Sovereign Lord, You are just and You are holy, yet Your loving kindness and mercy extend to me in my time of crisis.  How great are Your ways!  How good is Your love!
By Ann Shorb
©Copyright Ann Shorb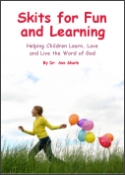 Skits for Fun and Learning
Skits for Fun and Learning is a collection of 15 puppet scripts and 5 articles on the subject of success with puppet ministries. The articles and scripts have been written by Dr. Ann Shorb and the book is available for purchase as a paperback, or as a PDF download.