JAMES 4:14 (NKJV)
As each one has received a gift, minister it to one another, as good stewards of the manifold grace of God . . . that in all things God may be glorified through Jesus Christ, to whom belong the glory and the dominion forever and ever.
PHILIPPIANS 2:13 NKJV
For it is God who works in you both to will and to do for His good pleasure.
Successful companies, organizations, and ministries all have a clearly defined purpose statement that provides focus and direction for their work and activities, yet surprisingly few individuals can clearly answer the question, "Why do I exist?" and state what they feel is their specific purpose in life.
The Bible tells us that God created mankind with a four-fold purpose for existing: to reflect His glory, (Isaiah 43:7); for His pleasure, (Revelation 4:11); for fellowship with God and with others, (Genesis 2:18; 3:8-9); and to rule over and take care of His creation, (Genesis 1:26, Psalm 8:6-8). Beyond that, I believe that each one of us is uniquely designed with a specific purpose and goal in mind, and that knowing God's purpose for your life helps guide you in the decisions you make every day. It helps you stay focused on the things that are most important as you seek to live for Him and use your time wisely.
Minister and author Robert Jeffress states, "A legitimate life purpose should be built around both needs that strongly concern you AND gifts that you possess . . . If God intends for you to meet a particular need, He will give you the unique abilities necessary to meet that challenge."
So as believers, the way we can discern what is our specific reason for living is to answer two primary questions:
What needs to I see in the world around me that strongly concern me? (What are you passionate about?)
What are my spiritual gifts and my talents?
A purpose statement should give you direction and be continuous, as it answers the question, "Why was I created?" Some people have a statement that works for their entire lifetime. For example: "My purpose is to share the love and Word of God with others." Other folks find their purpose changes with different seasons of life such as, "My purpose is to reflect God's love to my family as I care and provide for them day by day."
Taking the time to prayerfully define God's purpose for your life will be one of the best things you ever do toward finding satisfaction and guidance for everyday living. I guarantee it!
PRAYER: Loving Father, guide me as I seek to live each day doing what You have ordained and purposed for me.
WORDS TO PONDER: "Purpose in life is the foundation on which we build our actions, our affections, and our aspirations."
–Robert Jeffress, Choose Your Attitude, Change Your Life
"With our purpose, we are condemned to live lives of quiet desperation."
–Henry David Thoreau
RELATED DEVOTIONALS:
by Ann Shorb
© Ann Shorb
Scripture taken from the New King James Version. Copyright © 1982 by Thomas Nelson, Inc.  Used by permission.  All rights reserved.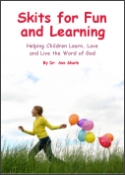 Skits for Fun and Learning
Skits for Fun and Learning is a collection of 15 puppet scripts and 5 articles on the subject of success with puppet ministries. The articles and scripts have been written by Dr. Ann Shorb and the book is available for purchase as a paperback, or as a PDF download.