Read previous devotionals in this series:
PSALM 56:3 (NKJV)
Whenever I am afraid,
I will trust in You..
Our last four devotionals focused on learning to break free from the spirit of fear, and live in the peace and tranquility that only God provides. We've seen that it is primarily a matter of learning to shift your focus away from your circumstances, problems, and fears to focusing instead on:
God's person and His character and His wonderful attributes
God's promises from in His Word
God's plan and the confidence that He works purposefully in your life
God's process of working day by day, moment by moment as you trust how, when, where, and by what means He chooses to execute His plan for your life.
If you did the weekly assignments, by now you have quite an arsenal of weapons to help you win the battle of replacing negative thoughts and worries with the truth of who God is and how He works.
Your initial list of words describing how you saw God at the beginning of our study. Underline any of these that do not match what you see in scripture, and realize that viewing God in these negative ways will hinder your ability to trust Him. Whenever you recognize fear or doubt creeping into your thoughts, check to see if you are viewing God from an inaccurate and distorted perspective or as He truly is.
An ABC list of words describing God's character and His attributes as you see them in the Bible and your own personal experience. This list will help you when the negative thoughts come your way. Realize that any perception of God that doesn't match what we see in His Word is a distortion and a lie from Satan who is seeking to get you off track. Refuse to believe the lie and replace it with God's truth.
A treasure chest of God's promises written on small cards to read and recite when anxiety rises.
Your journal record of how God has been and is working in your life. Review this often to see His faithfulness and the many ways in which He provides all that you need for every need.
Make this focus a regular part of your life. Don't wait until trouble comes, then try to grab hold of God. Make it a regular practice to get into God's Word daily so you know and continually see His character and His will. Take time to meditate on, record, and memorize passages that speak to you. Spend time in prayer. It's your way of developing that true and living relationship with your Creator and Great Shepherd.
To maintain this positive focus, it may also help to read inspirational and challenging literature. Check out your local Christian bookstores and online suppliers to find great resources. Be faithful in seeking out fellowship with other believers through a local church, study groups, and in daily relationships. Find ways to serve Him so you are blessing others with the blessings He gives you.
As you face difficult and troubling times, stop focusing on the uncertainties of WHAT is in the future or HOW God's plan will unfold, or WHEN or WHERE, or even WHY. Focus instead on WHO is in control and know that He in His greatness, faithfulness, love, and mercy is there for you–yesterday, today and tomorrow.
Prayer: Lord, thank You for the way that You go before me preparing the way as a good Shepherd does for His sheep. It amazes me that You are not only are in every moment of today, but You are in all of my tomorrows.
Words to Ponder: "Don't let your worries get the best of you. Remember, Moses started out as a basket case." –Original Source Unknown
By Ann Shorb
Copyright Ann Shorb, 2013
Scripture taken from the New King James Version. Copyright © 1982 by Thomas Nelson, Inc.  Used by permission.  All rights reserved.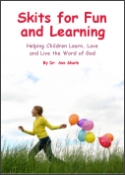 Skits for Fun and Learning
Skits for Fun and Learning is a collection of 15 puppet scripts and 5 articles on the subject of success with puppet ministries. The articles and scripts have been written by Dr. Ann Shorb and the book is available for purchase as a paperback, or as a PDF download.