Read previous devotionals in this series:
PSALM 37:23 (NKJV)
The steps of a good man are ordered by the Lord, And He delights in his way.
JEREMIAH 29:11 (NKJV)
For I know the thoughts that I think toward you, says the Lord, thoughts of peace and not of evil, to give you a future and a hope.
Focusing on God's person and on His promises are two important facets of breaking free from the bondage of living in the spirit of fear. The third dynamic is learning to focus on His plan. Of course, we do not always know, nor do we understand God's plan, but the Bible clearly tells us that His underlying purpose is always for our good and for His glory. Sometimes, though, it doesn't feel that way.
While there are those times when God's plan for our lives is easy and pleasure-filled, there are also many times when His plan takes us through storms and deep waters so that we will learn to draw close to Him, depend on Him, and allow Him to shape us into the image of Christ. In those times fear, doubt, worry and anxiety often overshadow thoughts of His goodness and love.
Remembering what God did for you in the past is one of the greatest aids in being able to trust Him in confusing or anxious times. In Fear Not Tomorrow, God is Already There, Ruth Graham says, "When we remember the ways God has worked in our lives in the past, we are better able to follow His lead in the midst of our current struggle. But remembering is also a form of preparation for future struggle. When we make remembering our habit, we literally build our confidence in God ahead of time so that we can obey Him when trials come—and they will come, often unexpectedly."
Writing down what God does in your life on a day to day basis is a wonderful way to keep track of how He blesses and cares for you. Here's how journaling works:
Record what's going on in your life. Write about your trials and difficulties as you go through them, and the ways in which God comes through for you. Log your thoughts, prayers, special scriptures that speak to you, or blessings that come your way. It's OK to note your doubts and fears, hurts and confusion. It's all part of what's happening. If you aren't facing any major issues at that time, just write the blessings you see day to day. Be general if you must, to get started. For example, "There was a beautiful sky today and it brightened my day." Just get started!
Review your journal from time to time. It's especially helpful to look back through it when you face a new trial and wonder how you will ever make it through. Recall how God supplied your need for strength, wisdom, courage, financial resources, etc. in the past and rejoice. Let that encourage you to trust His plan for today, even though you may not have a clue where He is leading you now.
Really make it stick in your mind by spending time meditating on the goodness of His person, the faithfulness of His promises, and the ways He met your needs in the past. Read through some of the stories in the Bible and note how God worked on their behalf. He'll do that for you, too.
Rely on God to do it again. Then, spend time in prayer actually thanking Him for what He did and ask for His help as you follow His current plan.
This week's assignment is to begin a journal that you will keep for the next 30 days as an experiment. You don't have to write in it every day, but the more often you note what's going on, the better. If you already keep a journal, that's great! But if you're one of those people who resists writing things down, or who says, "I don't have time," just give it a try, please. I guarantee, if you do it, it will bless, encourage, and strengthen you as you see how His plan unfolds in your life. After 30 days, if you can honestly say that it did no good at all, stop writing. If it blesses you, why not try to keep going? Seeing God's track record is powerful and it increases your confidence in trusting Him as you face your tomorrows.
Prayer: I remember, Lord, that You have a plan for my life. Help me to remember, too, that Your plan is always rooted in Your love so that it may be for my good and Your glory.
Words to Ponder: "When you come to the edge of the light that you know, and are about to step off into the darkness of the unknown, of this you can be sure–God will either provide something solid to stand on, or He will teach you to fly!" –Original Source Unknown
Related Devotionals:
By Ann Shorb
Copyright Ann Shorb, 2013
Scripture taken from the New King James Version. Copyright © 1982 by Thomas Nelson, Inc.  Used by permission.  All rights reserved.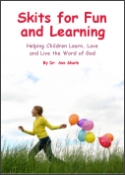 Skits for Fun and Learning
Skits for Fun and Learning is a collection of 15 puppet scripts and 5 articles on the subject of success with puppet ministries. The articles and scripts have been written by Dr. Ann Shorb and the book is available for purchase as a paperback, or as a PDF download.