Read the previous devotionals:
PSALMS 9:9-10 (NKJV)
The Lord also will be a refuge for the oppressed,
A refuge in times of trouble.
And those who know Your name will put their trust in You;
For You, Lord, have not forsaken those who seek You.
Learning to face tomorrow without fear involves a conscious choice to shift your focus away from anxious and troublesome thoughts and place them on God, the One who loves you and has your best interest in mind. It starts by focusing on who God is, His character and traits. As you turn your attention to His person, dwelling on His unchanging attributes of love, faithfulness, kindness and so on will produce comfort and calmness.
In addition, recalling the promises found in His Word, the Bible, will deepen that sense of security that can only be found in Him. I learned as a child that reading or reciting specific scripture verses was a wonderful way to reduce my fears and settle my mind. No matter when, no matter where, focusing on the promises of God can strengthen and provide hope to the anxious heart. Here are a few of my favorites:
Exodus 33:14
And He said, My presence shall go with thee, and I will give thee rest.
Psalm 107:9 (NKJV)
For He satisfies the longing soul,
And fills the hungry soul with goodness.
Isaiah 41:10 (NKJV)
Fear not, for I am with you;
Be not dismayed, for I am your God.
I will strengthen you,
Yes, I will help you,
I will uphold you with My righteous right hand.'
Isaiah 41:13 (NKJV)
For I, the Lord your God, will hold your right hand,
Saying to you, 'Fear not, I will help you.'
Luke 2:37
For with God nothing shall be impossible.
For this week's assignment, make yourself a treasure of God's promises! Search the scriptures and find those verses that provide you with comfort and hope. Jot down the reference and then write the entire verse on a 3×5 card. Keep them handy to read when fear wants to take hold of your heart and mind. Memorize as many of them as possible.
Below is a list of several of our past devotionals that can help you get started on this project. But don't quit when this week is over! Add to your list regularly so your treasure chest continues to be filled with the powerful, precious promises of God.
Prayer: Lord, my heart wants to trust You, but my mind gets overloaded with worry sometimes. Guide me in replacing those negative thoughts with Your precious promises, and keep my attention fixed on You.
Words to Ponder: "Did you know that worry erases the promises of God from your mind?"
–Charles Swindoll, Perfect Trust
Related Devotionals:
On another note—This weekend marks the seventh anniversary of A LIGHT FOR MY PATH! We started with around 25 readers and now we have 1,288. Would you consider helping us go over 1,300 by sending this to someone you know who might be interesting in joining our family of readers? Thanks in advance for your help! Have a blessed week.
By Ann Shorb
Copyright Ann Shorb, 2013
Order you copy of Ruth Graham's book at ChristianBook.com
Scripture taken from the New King James Version. Copyright © 1982 by Thomas Nelson, Inc.  Used by permission.  All rights reserved.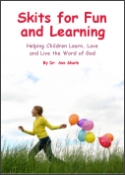 Skits for Fun and Learning
Skits for Fun and Learning is a collection of 15 puppet scripts and 5 articles on the subject of success with puppet ministries. The articles and scripts have been written by Dr. Ann Shorb and the book is available for purchase as a paperback, or as a PDF download.