ISAIAH 26:3 (NKJV)
You will keep him in perfect peace,
Whose mind is stayed on You,
Because he trusts in You.
Read Facing Tomorrow Without Fear, Part 1.
Last week we began a study on how to move away from a spirit of fear as we face the future and into God's peace and joy. Ruth Graham, author of FEAR NOT TOMORROW, GOD IS ALREADY THERE, says. "I have discovered that defeating fear in my life begins with shifting my focus. I take my eyes off the circumstances, off the source of my fear, and put my focus on God. Instead of mulling over the 'what ifs' in my future, instead of looking ahead with anxiety, trepidation, dread or even horror, I make the choice to look at God, to consider His character, and to trust that the One who loves me is 'already there.'"
A good place to start this process is to take a good look at how you view God now, and jot down some of the words you use to describe Him. Then carefully read over your list of words. Understand that if your current concept of God is not accurate according to Scripture, then you will have greater difficulty being able to trust Him.
Your misperceptions about this loving Heavenly Father usually come from one of three things:
1. what you experienced in previous relationships with your earthly father or other authority figures
2. your experience, hurts, and difficulties in other relationships or the general trials of life
3. poor and erroneous teachings about God or no teaching at all.
We've all had bad experiences and things in life that make us hesitant to trust anyone—even God. The key is to not stay stuck in that negative thinking, but to shift your focus instead to the greatness and faithfulness of our wonderful Creator. Trusting God, or anyone else, is a process.
I know several people, including Ruth Graham, who make an ABC list of God's characteristics as they find them in scripture. So here's your assignment for this week. Start your own list by writing the alphabet down the side of a piece of paper, or do it on your computer. Put one letter on each line. When reading your Bible, if you come across a word or phrase that describes God's character, write it on the appropriate line. For example, when you see His kindness, write the word "kindness" next to the letter K. If He is described as generous, write that beside the G on your list. Over time, your list will grow and you'll have multiple words starting with the same letter. And remember, you aren't limited to what you read in scripture. As you deepen your relationship with Him, you'll be able to describe Him in words that come from your own experience.
This list is a wonderful and practical tool to help you move your thoughts away from uncertainties that lie before you and focus on the incredible character of God. When worries occupy your mind, make that conscious choice to stop those thoughts and read through your ABC list. Focus on the words that truly describe your loving, Heavenly Father and you'll find that the cares and concerns of the day move to the background. And as your relationship with Him deepens, so will your trust in Him.
For most of us, it's really a matter of where we choose to put our focus. You can focus on the light that He provides, or you can live in the darkness of fear. What do you choose?
Prayer: Lord, I want to see You as You truly are. Help me to focus on Your greatness are instead of on the cares of this day.
Words to Ponder: "Keep your face to the sunshine and you cannot see the shadows." –Helen Keller
By Ann Shorb
Related devotionals:
Check the devotional archives for more readings about our incredible God!
Copyright Ann Shorb, 2013
Scripture taken from the King James Version of The Holy Bible.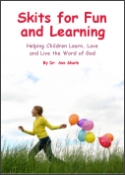 Skits for Fun and Learning
Skits for Fun and Learning is a collection of 15 puppet scripts and 5 articles on the subject of success with puppet ministries. The articles and scripts have been written by Dr. Ann Shorb and the book is available for purchase as a paperback, or as a PDF download.