2 TIMOTHY 1:7 (NKJV)
For God has not given us a spirit of fear, but of power and of love and of a sound mind.
Another new year stretches out before us! With it comes a new start, along with new goals, new opportunities, but many of the same old fears, frustrations, uncertainties, worries and anxieties. Is it possible to face the new year without fear?
I've just finished teaching Ruth Graham's fabulous book FEAR NOT TOMORROW, GOD IS ALREADY THERE. What a blessing it was to me, and to the ladies in my Tuesday morning Bible study and others in my Sunday School class as we worked through each chapter in the book. We learned so much!
There is a healthy fear, or an understanding of danger that we call caution, that may keep us from being hurt in a situation. It's natural and helpful to fear jumping off a tall building, or playing with a gun. It usually is brief and occurs in a specific situation. That is different from the "spirit of fear" that we read of in 2 Timothy 1:7. Ruth Graham refers to that as, "the condition or attitude that takes hold when our emotion of fear consumes us, cripples us." That's the fear from which we need to be free!
The way to accomplish that is to stop focusing on your problems, fears, doubts, and frustrations and focus instead on God. Focus on His who He is—His person. Focus on His promises. Focus on His plan.
This is January, so as we start our new year, let's do it right! Let's start by getting our focus where it needs to be so we can face each new day without fear. In the next four weeks, I'll share with you some ways to break free from this foe and find God's peace in spite of the troubling times in which we live.
I encourage you to get a notebook to use for the exercises in each of the January devotionals. If you'd like, you can make a nice title page for your book and put the date inside. Your first assignment is to write down words that describe your concept of God. Who is He? What's He like? How do you perceive Him to be? Title your first page, "How Do I View God?" and jot down your thoughts as they come to mind throughout the week. If you're going to focus on Him, you need to know how you view Him now.
Overcoming fear and anxiety is a choice and it's a process, but with God's help, it can be done. The result is a deeper relationship with Him and having His peace and joy. What a wonderful way to live!
Prayer: God of the Ages, You are the One who knows all things. Help me focus on You and You alone as I face 2013 and all the opportunities and challenges it brings.
Words to Ponder: "Your greatest need is not to get away from your problems, but to get into God." –Unknown
By Ann Shorb
©Copyright, Ann Shorb, 2013
Scripture taken from the New King James Version. Copyright © 1982 by Thomas Nelson, Inc.  Used by permission.  All rights reserved.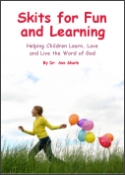 Skits for Fun and Learning
Skits for Fun and Learning is a collection of 15 puppet scripts and 5 articles on the subject of success with puppet ministries. The articles and scripts have been written by Dr. Ann Shorb and the book is available for purchase as a paperback, or as a PDF download.