HEBREWS 12:2
Looking unto Jesus, the author and finisher of my faith.
Right now finances are a huge concern for most people.  With uncertain financial markets, job losses and a down turn in the economy, anxiety is high and hope is low; so it's necessary to keep an eye on your finances.
Once you face your financial situation you can spend a lot of time fussing, fretting, fuming or even fainting from it, but none of these things helps you.  Or you can remember that all that you have belongs to your Heavenly Father, and it is He Who will meet your every need.
If you live with your focus on your financial situation, you will be miserable.  Instead, you must fix your eyes on Jesus, the tender Shepherd, and His constant care for you.  From Him comes your security and because of Him you find purpose and joy in living.
Gentle Shepherd, even in the hardest of times, my praise springs from You and Your goodness.  To You I give my worship.  In You I find my hope.
By Ann Shorb
© Copyright Ann Shorb, 2009
Financial Coaching is Now Available at Christian Counseling & Educational Services!
For more information, check our website.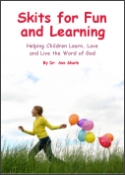 Skits for Fun and Learning
Skits for Fun and Learning is a collection of 15 puppet scripts and 5 articles on the subject of success with puppet ministries. The articles and scripts have been written by Dr. Ann Shorb and the book is available for purchase as a paperback, or as a PDF download.