HEBREWS 4:12 (NKJV)
For the word of God is living and powerful, and sharper than any two-edged sword, piercing even to the division of soul and spirit, and of joints and marrow, and is a discerner of the thoughts and intents of the heart.
In many schools across the land, teachers are back, students are in place, and the fall semester has begun! It's an exciting time, yet sending our kids off to school isn't as easy as it used to be. In fact, it can be downright frightening. Our schools are not the safe place they once were. Parents are often fearful as they let go and entrust their children to a place where accidents happen, temptations abound, and students may be harmed by each other or an unwanted intruder. Let's be sure to put a few extra things on their list of school supplies this year that will help both the parent and the child.
Each morning before your child heads out the door, equip him to face the day by giving generous hugs, a kiss, or a reassuring touch of some kind. That physical touch goes a long way in carrying you both through the time that you're away from each other.
Send him off with a kind word of affirmation. It's too easy to rush through the morning scolding, or barking orders as we push our kids out the door. Remember, your compliment or encouragement can set the tone for the whole day.
Take a few moments to pray not only for him, but with him. Let him hear you ask God to bless him academically, socially, and physically. Ask God to make him a witness to others, and pray for his safety and protection. Then pray for your child throughout the day as he comes to mind. If you're the grandparent, you probably don't have the opportunity to pray with your grandchild, but you can certainly pray for him—and be sure to let him know that you're praying regularly for him.
As part of your child's (or grandchild's) back to school preparation supply him/her with the Word of God. If it's possible for the child to have it, write out several reassuring verses on a small 3X5 of business-size card that he/she can keep in a notebook, locker, wallet or purse. Or you may type a whole page of verses and place it in the front of his/her binder to see throughout the day. The best option, however, is having the child actually memorize those verses so he/she has them in the head and heart at all times. Most children can memorize whole verses, or at least key phrases, quite easily. The Holy Spirit can bring these to mind from time to time.
Last school year, a young lady came to my office for her regular counseling session. We'd been working on some family issues, but that day, she was just bursting to talk about what happened in school. Without knowing the cause, teachers and students were instructed to get to a place of safety. For her, that meant moving into a storage closet with 20 other students and their teacher. With minimal lighting, they sat there quietly for nearly 90 minutes before her teacher was notified that they all could go back to the classroom. Still feeling unsafe because they didn't know details, the students still sat in fear as the teacher attempted to "go back to normal" and finish a lesson. Of course, none of them really absorbed a word he was saying, and I wonder if he even heard his own voice.
This kind of situation is not uncommon in our schools! Our children need to have an anchor to hold them firm in times of fear, anxiety, and uncertainty. We need to send our kids back to school assured of our love, covered daily with our prayers, and armed with the Word of God. Whether it's facing a difficult test or assignment, dealing with a bully, or some type of crisis, the extra "supplies" can make a world of difference for your child—especially the Word of God. It is living and powerful and relevant to every situation. Make sure to include these extra special school supplies every day this year!.
Prayer: Heavenly Father, watch over our young people. Guard their hearts, their minds, and their bodies every hour of every day during this new school year. Bless their teachers and those who oversee their learning. We entrust them all to Your loving care.
By Ann Shorb
Copyright Ann Shorb, 2013
Scripture taken from the New King James Version. Copyright © 1982 by Thomas Nelson, Inc.  Used by permission.  All rights reserved.
FREE DOWNLOAD! "Back to School With Success"–Practical tips and resources for parents
Get it here. This brochure can be printed and distributed free of charge to students and parents in your church, school or organization.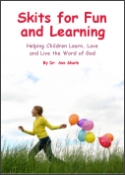 Skits for Fun and Learning
Skits for Fun and Learning is a collection of 15 puppet scripts and 5 articles on the subject of success with puppet ministries. The articles and scripts have been written by Dr. Ann Shorb and the book is available for purchase as a paperback, or as a PDF download.