I PETER 3:15 (KJV)
But sanctify the Lord God in your hearts: and be ready always to give an answer to every man that asketh you a reason of the hope that is in you with meekness and fear:
Open lid. Insert CD. Hit "PLAY" and the songs begin.
Lively music keeps me hopping while I'm doing my chores, so I recently selected one of my favorite collection of happy children's choruses to brighten my day and speed my pace as I did the routine tasks of dusting and vacuuming. One after the other for the next 20 minutes, those simple little songs energized me as I worked, bringing back joyful memories from my childhood, and of the years with my own children and those that I taught.
I was bellowing out the words with the children's voices, "Everybody ought to know, Everybody ought to know, Everybody ought to know, Who Jesus is," when suddenly it became not only an energizer, but a challenge to me. If everybody needs to know about Jesus, then I need to be telling them! I need to be bold in my witness and in sharing the Good News with the people I meet and see every day.
In praying and pondering how to do that, I realized that I need to be prepared. I need to rehearse and know how to clearly present the Gospel without being offensive or pushy. In addition, I need to make sure that I have Gospel tracts and other literature with me to give out as the Holy Spirit prompts me.
In a world full of hypocrisy, deceit, and falsehoods, though, more than anything else, I need to make sure that my lifestyle genuinely reflects Christ's love and righteousness. If I'm not striving each day to be conformed to His image, it won't matter how many tracts I hand out, or how many people I witness to, my message will not be received. Others will think that Christ isn't actually who He said He is, the Changer of lives. And what a tragedy that would be!
Prayer: Heavenly Father, help us as Your children to live in a way that pleases and honors You so that we may show the world that Christ changes lives. Help us to boldly proclaim by our words and actions, "I have good news for you about Someone who can change your life, too!"
Words to Ponder: "Jesus calls us to be light, and He reminds us that it's no good covering up a lamp.  How do we light up the world?  By our good deeds, says Jesus, by everything we do as Christians."
–Nicky Gumbel, "Why and How Should I Tell Others?"
By Ann Shorb
©Copyright, Ann Shorb, 2016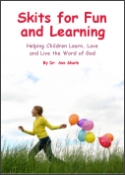 Skits for Fun and Learning
Skits for Fun and Learning is a collection of 15 puppet scripts and 5 articles on the subject of success with puppet ministries. The articles and scripts have been written by Dr. Ann Shorb and the book is available for purchase as a paperback, or as a PDF download.